Windows 8.1 August Update arrives -- minor improvements and bug fixes the order of the day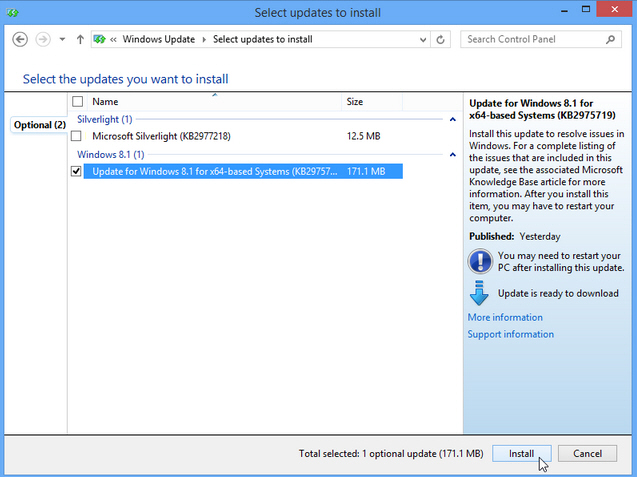 Microsoft's long-awaited "Update 2" for Windows 8.1 users has materialized in the guise of August 2014 update rollup for Windows 8.1 and Windows Server 2012 R2. Also available separately for 64-bit Windows, the update is currently listed under optional updates in Windows Update.
The update is not as major as the previous Update 1 release, but does nonetheless contain a number of improvements and tweaked features.
The most visible change to Windows 8.1 after applying this update can be found buried away under the PC Settings screen, accessed via the Settings charm. Tap Update and Recovery > Windows Update and users will see additional information in the guise of when updates were last checked and installed has been added to the screen. This apes what is already shown in the desktop Windows Update Control Panel.
Precision touchpad device users also gain three new user-controlled settings under PC Settings > PC and devices > Mouse and touchpad -- these are "Leave touchpad on when mouse is connected", "Allow right-clicks on the touchpad" and "Double-tap and drag".
Internet Explorer gains a new security feature whereby it can block -- and notify the user -- when it encounters an out-of-date ActiveX control on a website. The rest of the web page is unaffected while the user is prompted to update the control to its latest version.
Support for the Russian Ruble currency for both input and rendering is also added to the new release, while Wi-Fi Direct APIs for Discoverability have been added to allow Windows to support incoming Miracast connections.
Developers also gain the ability to both read and write "Date taken" and GPS data tags on MP4 files using Windows Runtime and Win32 APIs. Users of Microsoft SharePoint Online sites should also see the number of login prompts reduced when "Keep me signed in" is ticked.
The update also resolves over 65 issues, all documented in separate KB articles -- the full list can viewed at the Microsoft Support Knowledgebase.
The August 2014 update rollup for Windows 8.1 and Windows Server 2012 R2 is available now separately for Windows 32-bit and Windows 64-bit machines. It is also available through Windows Update as an optional update at the present time. Users must first ensure update 2919355 has been installed prior to installing the August 2014 update.