G.SKILL unveils Ripjaws 4 Series DDR4 Memory Kits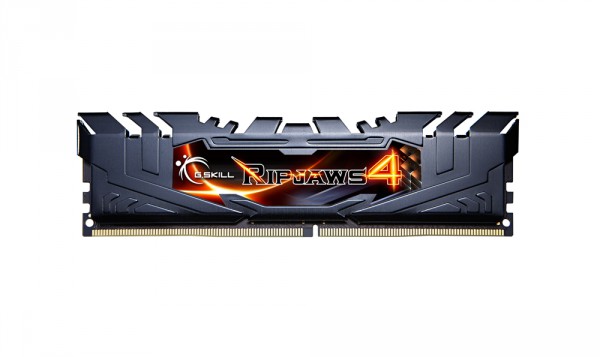 When it comes to building a computer, there are many routes to take. Of course, if you are wealthy, you can throw money at your build and achieve something wonderful. However, for many of us average folks, money can sometimes be tight. If you are on a budget, you can aim for either cheap or inexpensive; there is a difference. You see, cheap components are of low quality, but inexpensive can mean high quality at a value.
For my last few major desktop builds, I have trusted G.SKILL exclusively. My brand loyalty is due to past performance; the manufacturer's memory has proven to be reliable and reasonably priced. Today, the company sets my heart aflutter, as it announces the Ripjaws 4 Series DDR4 Memory Kits.
"With a standard of 2133MHz, DDR4 is the next generation definition of performance. Also available in 2400MHz, 2666MHz, 2800MHz, 3000MHz, and 3200MHz, the starting lineup is continuing where DDR3 left off. With capacities starting at 16GB (4GBx4), 32GB (8GBx4 / 4GBx8) and 64GB (8GBx8), your new X99 platform will have more memory space to do what you need it to do. That's not all! Ripjaws 4 also has an ultra low voltage rating of 1.2V for kits under 2800MHz and 1.35V for 3000/3200MHz", says G.SKILL.
The manufacturer further explains, "as the 4th evolution of the Ripjaws series, Ripjaws 4 is outfitted with an all-new designed heatspreader. Available in Red, Blue, and Black! And don't worry; Ripjaws 4 has a module height of 40mm -- the same height as previous Ripjaws family modules -- and will be compatible with most CPU heatsinks".

The Ripjaws series is my favorite as the heatspreaders look super-sexy. Does the physical appearance of RAM matter? For many it does; even if it is hidden in your case, you will know how cool it is. The fact that the height of the sticks will remain the same is great news for people using CPU coolers with very limited clearance.
While price and availability are not yet announced, one thing is for sure -- with DDR4 memory, the future of system building is looking bright. For your next rig, G.SKILL should definitely be on your radar.