Parallels Desktop 10 officially available, promises improved performance, adds new Disk Space Wizard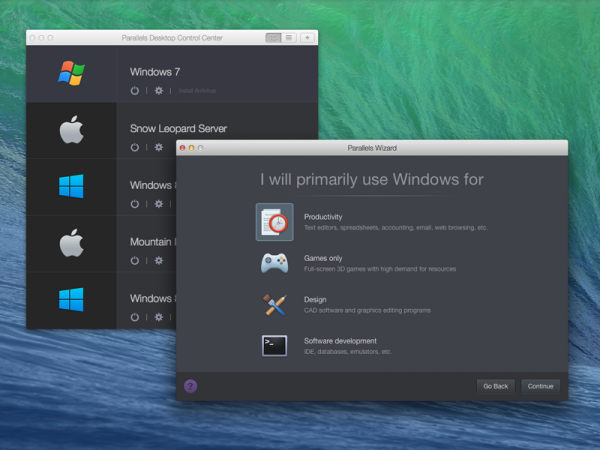 Parallels IP Holdings GmbH has unveiled Parallels Desktop 10 for Mac to the general public, one week after making it exclusively available to existing users.
The app, which makes it easy to run Windows in a virtual environment in OS X, launches with the promise of drastically improved performance and better battery life, plus adds new features and promises compatibility with the forthcoming OS X 10.10 Yosemite, currently in public beta.
Performance improvements focus on the speed of opening Windows documents, with Parallels claiming files should now open almost 50 percent quicker than previously. Those running Parallels on MacBooks will also be pleased to learn that battery life is extended by up to 30 percent in the new release.
Other performance tweaks see virtual machines consuming up to 10 percent less memory, snapshot creation should be up to 60 per cent faster too. New VMs set up using default settings come with the promise of launching Office 2013 applications up to 50 percent faster than previously also.
Parallels Desktop also better manages disk usage of VMs by automatically compacting virtual disks as space is freed up on the VM. This new feature is joined by a brand new Free Disk Space Wizard that can be used to free up and clean space manually.
Parallels Desktop 10 also focuses on improving integration between the Windows VM and OS X desktop by utilizing features in the forthcoming OS X Yosemite, with users able to share files, text and photos using Internet Accounts configured on the Mac.
The Windows 8/8.1 Start Screen is now available as a Launchpad in Coherence Mode, while Windows apps are automatically added to the dock when installed.
Users can now also drag and drop files to the VM's dock icon to open them in Windows, while Office Save as options now integrate with Mac cloud accounts at Dropbox, iCloud and Google Drive too.
One final improvement allows users to navigate to folders within Windows directly from OS X itself via a new "Reveal in Windows Explorer" option in the OS X File menu.
Install improvements
Parallels Desktop 10 has also been tweaked to make it easier to set up and use, with an option to configure a VM during setup with one click by specifying what kind of use – games, productivity, design or development – it will be put to.
Setting up Windows machines has also been streamlined with new configuration options and the automatic use of Mac regional settings to configure the Windows VM.
There are improvements for developers and pro users too, with support for linked clones from a single VM, plus the ability to create new virtual machines from existing VHD and VMDK disks.
Parallels Desktop 10 is available now as a trial download for Macs running OS X Lion or later. A Core 2 Duo processor or later is required with 4GB RAM recommended. The full version can bepurchased for $79.99, with a Student edition ($39.99) and upgrade from Parallels 8 or 9 ($49.99) also available. A three-month complementary subscription to Parallels Access comes with the purchase.