MacBooster 2 launches, adds System Status, Photo Sweeper and Security modules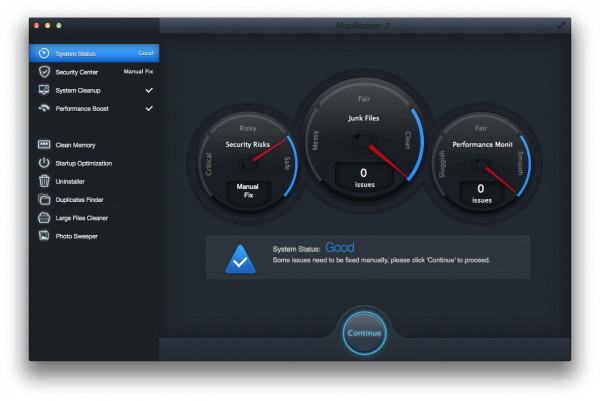 IObit has released MacBooster 2.0, a major new build of its shareware cleaning and optimization tool for Macs. The app, which is available as a 14-day trial download, includes a number of new and improved features.
It also shows off a major redesign, switching to a black-themed UI more in keeping with the company's Windows product portfolio.
MacBooster 2 opens with a new System Status module, which displays the computer's health as a series of speedometers, covering junk files, performance and security. The module also offers a new one-click fix button to resolve all detected issues.
Also added to the program's roster is Photo Sweeper, a tool that will identify similar looking photos, allowing users to clear out redundant ones to save hard drive space. A third new module is Security, covering issues including malware and potential security risks.
Each module also gains a new Ignore List option, with users now given control over which items are ignored from each scan.
Improved modules include Clean, which gains a new graphic display for each junk file category, and Performance Boost, which promises better results, in part due to an optimized RAM cleaning algorithm that should release more RAM without adding system lag.
The update also promises improved integration with the Notification Center, a more user-friendly preference configuration screen and revamped Menu bar items, including the new one-click speedup and clean options.
The update is rounded off with the usual unspecified bug fixes. IObit MacBooster 2.0 is available now as a free 14-day trial download for Macs running OS X 10.6 (Snow Leopard) or later. The full version can be purchased for $59.95 (a cut-down Lite version is also available at $39.95).