Nokia's powerful HERE comes to Samsung Galaxy smartphones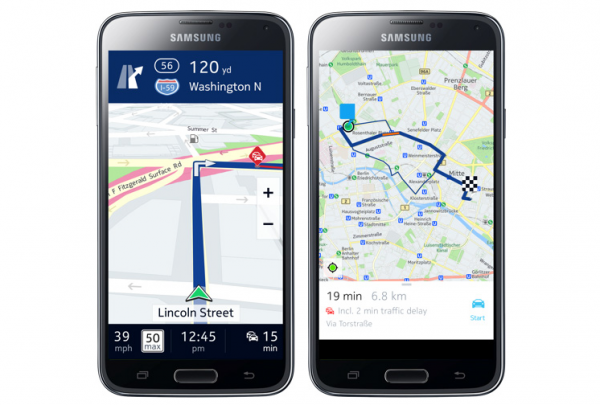 HERE may be commonly associated with Windows Phone, but that is not stopping Nokia from also offering its powerful software on Samsung's Galaxy smartphones as well as the new Gear S smartwatch. Microsoft should be worried, as one of the main differentiating features of its Windows Phone -- the exclusive availability of the HERE suite, among top mobile platforms -- just vanished into thin air.
HERE is making its way to Galaxy smartphones with virtually all of its core features intact. That means turn-by-turn navigation in nearly 100 countries, detailed offline maps for up to 200 countries, live traffic information in more than 40 countries, and directions when using public transportation in more than 750 cities from more than 40 countries. It's pretty much the whole shebang.
"We believe that maps and location-related functionality are essential for any operating system. HERE aims to deliver fresh maps, platform services and location cloud experiences to as many people and businesses as possible, independent of the device and operating system they are using", says HERE Sean Fernback. "Partnering with Samsung for the Tizen OS, and providing maps and location services for the first time with the new Samsung Gear is another huge step for us in that direction".
On Android (excluding Nokia-branded X devices), HERE is available exclusively on Galaxy smartphones. This appears to be a long-term deal. "Samsung is committed to providing consumers with the best possible mobile experience and we always look for partners to help expand the capabilities of our smart wearable devices", says Samsung's Chan Woo Park. "We are thrilled to partner with HERE and bring innovative, personalized mapping pedestrian navigation services to our Tizen-powered smart wearable devices starting with the Samsung Gear S". I wouldn't be surprised to see HERE on the upcoming Galaxy Note 4 too.
HERE is touted to play nicely with Samsung's Car Mode and Glympse and, of course, with the Gear S smartwatch, which will fetch routes from Galaxy smartphones. The software will be available when Gear S launches, for free of course, in beta form.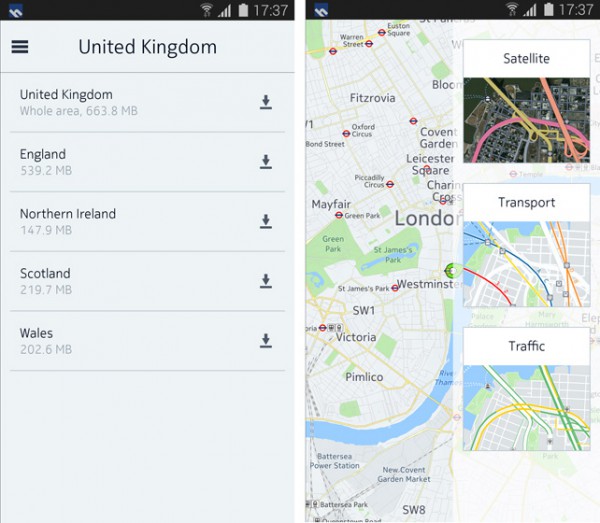 This is not the first time that HERE makes its way to smartphones other than Windows Phones in recent times (obviously, not including Nokia's own non-Lumia devices), as HERE Maps had been made available on iPhones also, but it is the first time that virtually all of the core HERE features are offered outside of the tiled smartphone operating system (again, not including Nokia's own non-Lumia devices, like X handsets).
Update: HERE will eventually make its way to other Android devices, according to a HERE employee, but non-Galaxy users will have to wait until "later this year" for the app to show up.
@ingridlunden HERE for Android is part of our partnership with Samsung, but we aim to make HERE available to as many people as possible

— Pino at HERE (@haikus) August 29, 2014
@ingridlunden I don't have a precise date just yet, but it will be later this year

— Pino at HERE (@haikus) August 29, 2014