Apple's September 9 event to stream live -- but only to Apple devices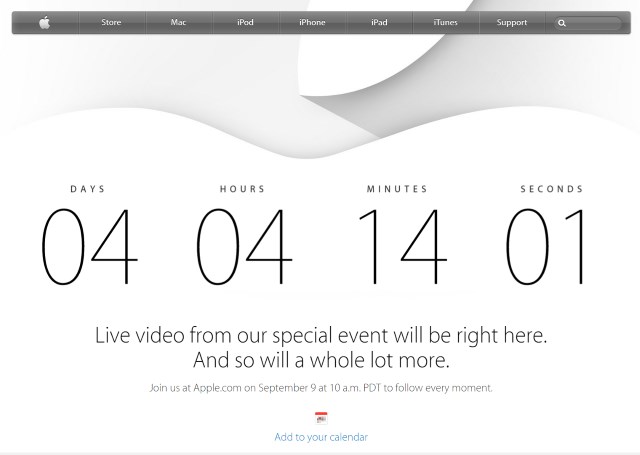 It was all but expected, but Apple has confirmed that Tuesday's "special event" will be streamed live online. This in itself is nothing particularly surprising, but the small print at the bottom of the launch announcement page will upset many people -- if you're not already packing an Apple device, you're not invited. "Live streaming video requires Safari 5.1.10 or later on OS X v10.6.8 or later; Safari on iOS 6.0 or later. Streaming via Apple TV requires second- or third-generation Apple TV with software 6.2 or later". Android, Windows, and Linux users are excluded.
At the event, which kicks off at 10am PT on Tuesday at the Flint Center for the Performing Arts in Cupertino, it is expected that Apple will talk about the iPhone 6 -- possibly two sizes -- as well as a wearable device -- which in all likelihood will be the iWatch. Anyone who is not attending the event will have to either fire up a Mac, iPad, iPhone or Apple TV, or wait for news of the announcements to be written up and posted online.
The anticipation surrounding the event -- there's already a countdown timer in place -- really means that Apple has a very easy job on its hands to push any new devices that are launched. On the one hand, limiting the stream to existing Apple users seems like preaching to the converted and limiting the potential audience. On the other, it can be seen as a reward to loyal Apple fans -- a little thank you for their dedication to the brand. However you see it, if you're an Android or Windows user, you're out of luck if you fancied the idea of watching live.
So, if you want to watch the event when it streams on Tuesday, you'd better make sure your iPad or iPhone is charged up! Of course, we'll bring you all of the news of the event here on BetaNews as well.