Facebook rolls out Privacy Checkup feature to users around the world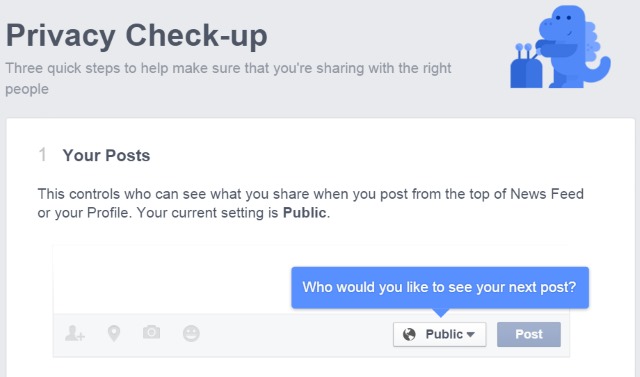 We now live in an age where privacy is a key concern. Facebook has long been criticized for its somewhat lackadaisical attitude to the privacy of user data, and over the years various steps have been taken to afford Facebookers greater control over who is able to see their status updates and other data. First announced back in May, the social network is now rolling out its Privacy Checkup feature around the world, giving users the chance to check exactly who they are sharing information with.
The new tool does not really introduce any new features, but it does bring existing security controls to the fore. Privacy Checkup should make itself known over the next few days by popping up when you use Facebook, but it can be accessed whenever you want by clicking the privacy lock icon to the upper right of the page. For some reason, the face of Privacy Checkup is a friendly blue dinosaur, sort of like a prehistoric version of Clippy.
Privacy settings are reduced to three broad categories -- posts, apps, and profile data. In the Your Posts section you can choose which groups of people should be granted access to your status updates -- you can lock it right down, or leave it wide open to the public if you prefer. Move to the Your Apps section, and you can work through the undoubtedly lengthy list of apps you have installed. Privacy settings can be configured for each app individually, and this is also a good time to trim the fat and banish any you no longer use.
The last stage involves configuring the visibility settings to different pieces of personal information. You may decide to share information about your work history with a limited group of friends, or keep your hometown completely private. The controls are not particularly fine-grained, but for anyone who has never given their privacy settings a thought, it's a decent enough start.
Check out the Facebook blog where Product Manager, Paddy Underwood presents a video guide to the checkup tool. He says: "We know you come to Facebook to connect with friends, not with us. But we also know how important it is to be in control of what you share and who you share with".