HooToo TripMate Elite -- the "electronic Swiss army knife" for tech travellers [Review]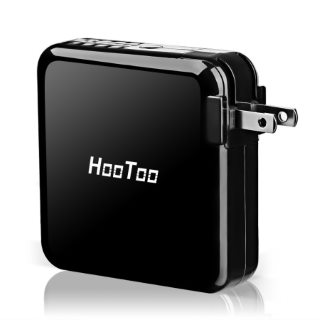 When I first learned about the HooToo it sounded, frankly, a bit nuts. Pitched as an "all-in-one device charger, AC adapter, personal cloud, travel router, Wi-Fi hotspot, and wireless bridge" I was instantly intrigued, but fearful that this was going to be a device that promised the world and delivered little. Was I setting my expectations too low? Before we look at things any further, it's probably worth spending a moment or two decoding what it actually is. One of its more basic functions is a rechargeable USB battery pack complete with two outputs. But there's more to the TripMate Elite. Much, much more.
The 3.2 x 3.2 x 1.0 inch (82 x 82 x 28mm) black box is home to a 6000mAH battery that's perfect for powering up a dead mobile or tablet on the move, but the 7oz (200g) package has plenty more tricks up its sleeve. As it's a portable battery pack, it's hardly surprising to find a couple of USB outputs, one kicking out 1A, the other 1/2.1A. Equally unsurprising -- but no less useful -- is the battery level checker on the adjacent side; tap the button and four blue LEDs let you know the charge level. But what's that next to the charge lights? Internet and LAN indicators? Curiouser and curiouser, said Alice.
Spin back to the edge featuring the USB ports and you'll find confirmation that your eyes did not deceive you. There's also an Ethernet port. What the fudge? This is the router aspect of the increasingly exciting TripMate Elite. If you find yourself in a hotel room where there's only a wired connection, just connect the TripMate to the network and you can share the connection wirelessly to your laptop, phone, tablet and anything else you might have brought with you. Backed up by WPA and WPA2 encryption, everything is kept nice and safe. It also serves as a way to extend the range of a flaky Wi-Fi connection, or to cheekily pay for one connection and share it between multiple devices.
The connection options go a little further. If you have a flash drive or a USB hard drive (up to 4TB) with you and want to share the files between multiple devices, the TripMate Elite can help here too. Plug in your USB storage and you can then connect up to five devices so you can copy files around, share documents, and stream media. Your own personal cloud, as the instruction manual puts it. There are apps available for both iOS and Android to make it easier to access your files from a mobile device. Software is also available for Mac and iOS -- Linux and ChromeOS users miss out for now -- but this is not needed to take advantage of all of the device's features.
Oh, and did I mention the fact that there's a built in two-prong power adaptor so you can plug it straight into the mains without the need for a cable? This is not only handy for charging up the built in battery, but also means the TripMate Elite can function as a replacement for your standard wired mobile charger. As I'm in Scotland rather than the States, I had to ruin the look of the unit by connecting it to a travel adaptor, but it's still a neat and tidy device.
If the features sound good, the price is impressive too. There's an MSRP of $89.99, but the device is currently available for just $59.99 from Amazon, complete with free shipping. There's a similar deal available on Newegg if that's your preference. Don't get too excited about it, but in the box you'll also find a little travel pouch to help keep your purchase protected -- it's nothing out of this world, but it's a nice touch.
The PR guff relating to the TripMate Elite describes it as "one easy gadget that keeps all your devices charged, online, and connected to each other". That is precisely what it is, and it does it all tremendously well. It's an outrageously useful device, and an extremely sexy addition to your hand luggage. I'm a cynical bugger at the best of times, but I have been genuinely blown away by this incredible little device. It takes a lot to impress me, so hats off to HooToo for achieving the (almost) impossible.
I'm not a fan of unboxing videos -- and my presentation skills aren't up to much -- but it's worth checking out the introductory video to get a feel for this genuinely impressive piece of kit.