Grace Digital aptX Bluetooth Speakers (GDI-BTSP201) -- bringing music to life [Review]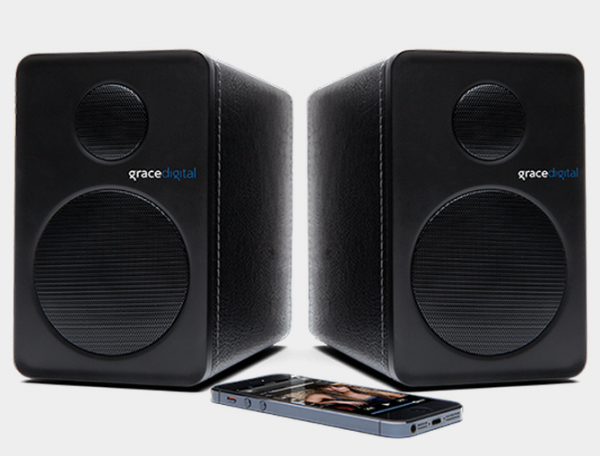 Bluetooth speakers are a dime a dozen, nowadays. Quite frankly, it is hard to get excited about them. While they can be used with a desktop at a workstation, the true allure is portability with a smartphone or tablet. You see, there is typically a trade-off of quality for convenience, and the average audiophile would likely turn up their nose at using them.
While I have heard some great Bluetooth speakers like the UE BOOM and JBL Flip, they ultimately were not enough to replace my desktop speakers, the Logitech Z-2300. Those desktop speakers are quite phenomenal and hard to beat. I recently tested the Cambridge Audio Minx M5 and found them to be wonderful, but they do not offer a wireless connection. Today, I am looking at the Grace Digial aptX Bluetooth Speakers, which work as both wired and wireless.
Features and specs
Stream music wirelessly via Bluetooth from any Bluetooth-enabled device
Integrated RCA audio inputs to connect optional wired home audio devices such as iPods, CD players and TVs as an optional audio source
Delivers sound with striking accuracy with our world-class acoustic tuning and modeling
Supports universal Bluetooth protocol SBC as well as CD audio quality aptX
Volume, playback, audio source controls, and Bluetooth connect button are conveniently placed on the top of the left speaker
Bluetooth version 4.0
Amplifier: 36 Watt Output Power, 2x 18 Watt RMS Distribution, 50 Hz – 20 kHz Frequency Range
Speakers: 1-Inch Tweeter Drive Unit, 3.5-Inch Woofer Drive Unit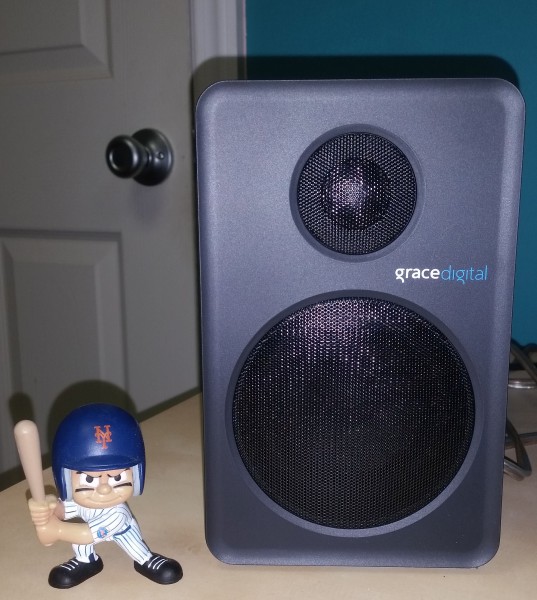 Test hardware
My goal for testing the hardware was to hear performance with both Bluetooth and wired connections. As desktop speakers, the wired performance is more important to me, but I like the ability to connect wirelessly too, if say a friend comes over with music on a smartphone. For the wireless connection, I used an iPad Air, Hackintosh and LG G3.
For the wired connection, I tested with a Surface Pro 3 in the official docking station. While the dock does have a 3.5mm output, I instead opted to use a USB DAC; the amazing Cambridge DacMagic XS. The Grace Digital speakers come with a generic analog cable, but I swapped it for the Cable Matters Gold Plated 3.5mm to 2RCA Stereo Audio Cable, which has a better build. The included speaker wire to link the speakers is a nice thick gauge and I stuck with that, rather than upgrading.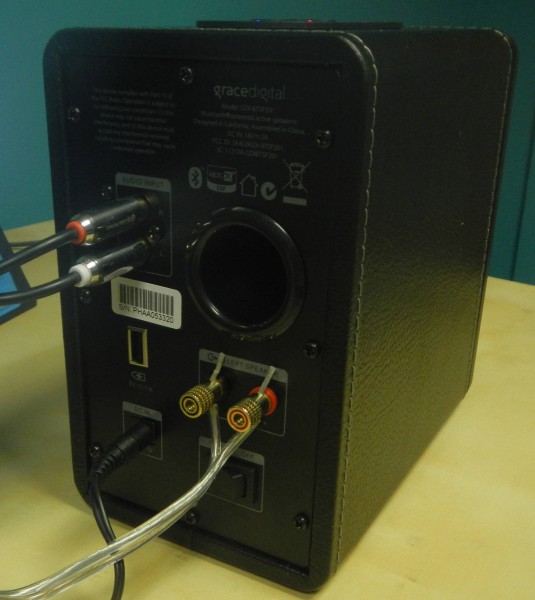 Impressions
Upon unboxing the speakers, I was immediately impressed with the appearance. You see, they are wrapped in a black faux-Leather (also available in red or white) with white stitching. Sure, the material is "fake", but the appearance is quite breathtaking (they class-up my pathetic basement office). The rear of the left speaker is rather unimpressive; it only has plugs for speaker wire and a port for bass. The true magic is on the right speaker, which features RCA input, a USB charging port (because, why not?), power input, on/off switch, bass port and speaker wire plugs to send signal to the left speaker.
The top of the right speakers is home to the controls -- a volume wheel, pause/play, track forward/back and a power/source button. The source button allows you to easily switch between analog input and Bluetooth. What I really like is that when powering on, the speakers will immediately take audio from the analog connection while searching for Bluetooth pairing. Since I plan to use them mostly with the analog connection, this method is preferable, as I never have to worry about switching to analog when no Bluetooth is present.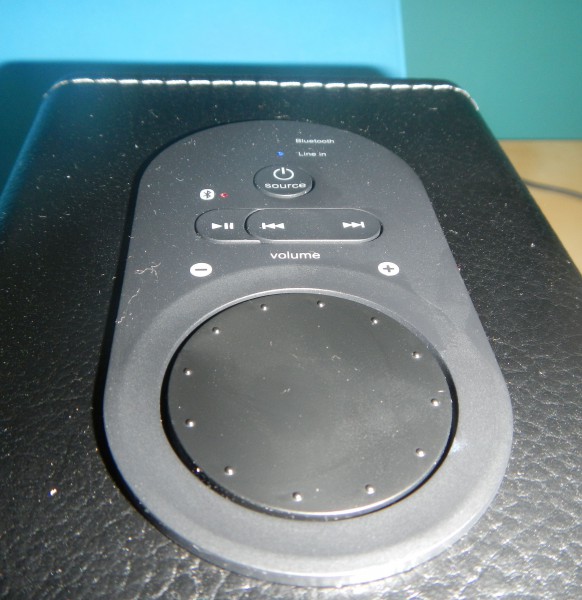 Unfortunately, the controls (pause/play, track forward/back) only work with a Bluetooth connection, but this should be obvious. After all, when connected through the analog RCA cable, there is no way for the speakers to communicate with the computer. Either way, it does not matter when using with a desktop, as the Windows or program controls are sufficient. In Bluetooth mode, the controls do work well, including Google Play Music All Access in Chrome on Windows 8.1.
Sound quality
Enough about the features, the true test of any speaker is how it sounds. Of course, this is entirely subjective and dependent on the listener and the source material. I make no apologies for being a massive Hip-Hop fan; however, I also appreciate other genres such as Rock, Dubstep and more.
My first test was with Google Play Music All Access on Windows with a wired connection to the speakers. This is a streaming service that offers compressed music, which audiophiles will decry. However, this is a popular way of consuming music, so it must be tested. I played many songs, including:
Dr. Dre "What's the Difference"
Unspoken Heard "Truly Unique"
Shyne "It's OK"
Joni Mitchell "Overture-Cotton Avenue"
Paul Simon "Kodachrome"
Skrillex "Kill EVERYBODY"
The Clash "London Calling"
Meat Puppets "Aurora Borealis"
My goal was to listen to an eclectic mix of songs that I like. On all of the songs, it was quite remarkable; it was hard to tell that they are compressed, or lossy. Even while listening to streaming music, the Grace Digital speakers produced sounds in songs I hadn't heard before.
Music sounds vibrant and alive and very well balanced between right and left channels. Bass is very punchy, but not overpowering, and I do not miss having a dedicated subwoofer from a 2.1 setup. Actually, I appreciate not having a subwoofer under my desk as its absence lends to a cleaner appearance.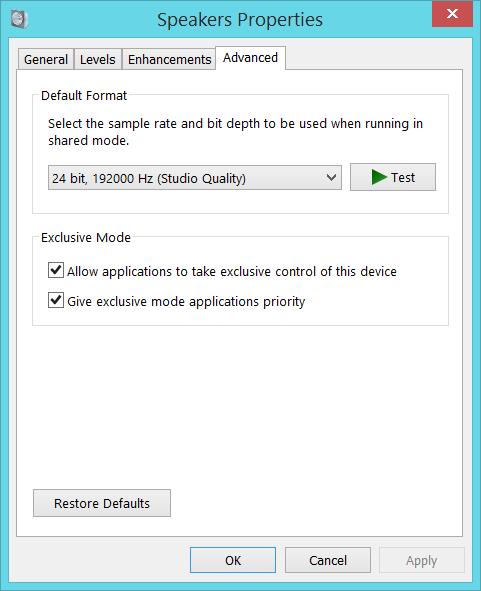 Unfortunately, I no longer own any CDs, so I downloaded a free classical music FLAC file described as, Debussy: "II. Jeux de vagues" from "La Mer" on this album (1447-2) Singapore Symphony Orchestra / Lan Shui. I must confess that what I know about classical music can fit on the head of a pin, but I felt it to be an important test, nonetheless. To play it, I used Foobar 2000 and the ASIO output plugin (using the Cambridge Audio ASIO driver). The DacMagix XS can handle 24-bit, 192kHz audio, and this file is 24-bit 88.2 kHz.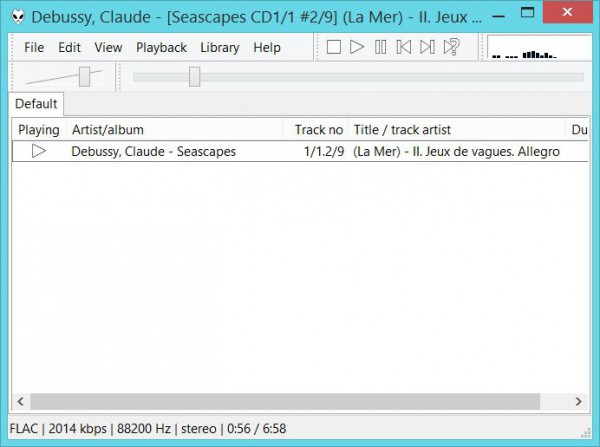 Good lord; I felt as if I was at the symphony, listening to an orchestra live. I relaxed and leaned back in my chair, letting the sounds take over. With my eyes closed, I literally got goosebumps as I experienced the music -- it is both warm and alive. Hell, I should probably listen to more classical music!
Since these are also wireless speakers, I decided to test that aspect with the iPad Air, Hackintosh and LG G3. Pairing was easy and the dedicated controls worked well. Sound quality is very good, although noticeably less than the hardwired connection. That is not to fault the Grace Digital speakers, but a limitation of Bluetooth; however, this is by far the best sound I have heard from Bluetooth connected speakers. The aptX connection definitely makes a difference when available (the iPad Air does not support aptX, but still sounds great).
Conclusion
At $249, these Grace Digital speakers are designed for music enthusiasts that want exceptional quality at home, with the convenience of Bluetooth. Make no mistake, these do not have a battery and are quite heavy; you will not be taking them to the beach. If you want portability, look elsewhere.
If you are looking for speakers for a computer room, office or even a family room, these should be high on your list of considerations. I have heard many computer speakers in my time, and these rank among the top; they truly make me smile every time I listen to music through them. While the price is high for occasional YouTube watching, it is a bargain for music lovers. Highly recommended.