NirSoft's OpenSaveFilesView displays recently opened and saved files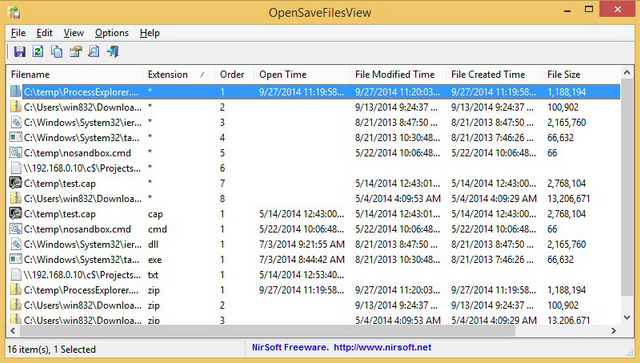 NirSoft has released OpenSaveFilesView, a tiny portable tool which displays files opened and saved by the standard Windows Open and Save dialogs.
This has various potential applications, from reminding yourself where you saved that document last week, to getting an idea what someone else might be doing on a PC.
The technique has its limitations. The program won't list files opened by double-clicking in Explorer, say, or via applications which use their own custom Open: it works with the regular dialogs only.
This could still be enough to be useful, though, and OpenSaveFilesView does give plenty of details about each file on the list: Name, Extension, Order (the order that the files were opened for every file extension), Open Time (available only for the last opened file of every file type), File Modified/Created Time, File Size, and File Attributes.
Clicking any of these column headers sorts the report into a more useful order. If you'd like to see which files have been saved recently, for example, just click the "File Created" header.
As ever with NirSoft tools, right-clicking the table displays options to save all or selected items as a text/ HTML report for easy reference later.
OpenSaveFilesView runs on anything from Windows 2000 and up, too, both 32 and 64-bit editions, so should be usable just about anywhere.
The program worked as advertised for us, and is easy enough to use. If you're after something with more detail, though, try NirSoft's LastActivityView. It displays the same core information, but adds information like application launch times, network connects/ disconnects, system starts/ shutdowns, and more.