Atongm Bluetooth Virtual Laser Keyboard: Lets you type on any flat surface [Review]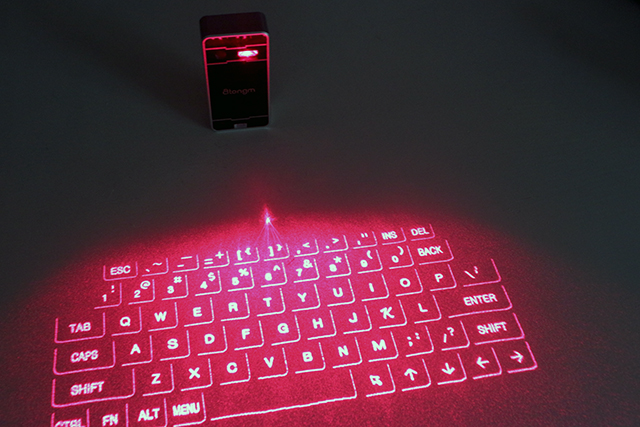 Tablets are fantastic for casual tasks such as checking email, browsing the web, watching movies and playing games, but they're not so good for doing work on because the virtual keyboard takes up so much of the screen space, and it's difficult to touch type on.
If you want to boost your productivity, you need to consider buying a keyboard for your device. There are plenty of good ones to choose from, but that adds yet another thing to carry around with you. The Atongm Bluetooth Virtual Laser Keyboard is a tiny solution (36x18x74 mm, approx. 40g) which gives you back your screen space and turns any surface -- such as a table in a coffee shop -- into a keyboard.
Place the device on a flat surface, flick the switch on the back to On and it projects the red outline of the keyboard in front of it -- at a distance of around 10cm away. The keyboard is the same width as an iPad, at 24.1cm wide. When you're not typing anything the brightness of the outline reduces to save battery life.
Next connect it to your tablet, phone or computer. It's compatible with Windows (XP and up), Mac OS X, iPhone and iPad, Android 3.1 and up, and Windows Phone 7/8, and connects to devices via either USB (cable supplied) or Bluetooth. When pairing it via Bluetooth, you need to press and hold FN+B on the projected keyboard to make it discoverable.
So what's it like typing on a table? Well it certainly does take some getting used to, but actually it's not bad. Even though the laser keyboard claims to detect up to 400 characters per minute, you probably won't type as many words using it as you would on a regular keyboard, but it accurately identifies all the key presses you make. The mistakes that appeared in documents were mine, not the keyboard's.
So you can be certain your taps are being registered, the device beeps at you as you type. This is helpful to begin with, but after a while gets on your nerves (or it did in my case anyway). Fortunately you can turn the audio feedback off or on again by pressing FN+P. Pressing FN+left or right adjusts the volume.
There is of course an obvious problem with a laser keyboard like this. If you're in a dark(ish) room, you can see the keyboard perfectly without problems (it offers contrast up to 1800 lux), but if you're outside in bright sunlight the projection from the red laser diode is pretty much invisible. Pressing FN+up or down will adjust the brightness to suit your environment.
There is the danger something like this could be viewed as a gimmick, rather than a proper keyboard, but once you get used to it, it's actually a very good compromise.
The Atongm Bluetooth Virtual Laser Keyboard costs $67.11 (with free shipping) from GearBest. However, if you use the coupon code: GBLKCN you can get it for just $49.99.