Rise of Macs: Apple is the fifth-largest PC maker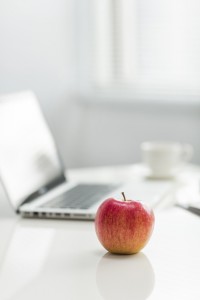 The PC market is not what it once used to be. Both shipments and sales are in the proverbial toilet. Old devices are still adequate years down the road, and more than capable of running newer versions of Windows, if users wish to upgrade -- many don't. Other types of devices, like tablets, can do the basic tasks just as well, if not better than the PC, and, for many in emerging markets, smartphones are what they buy these days to connect them to the Internet.
There are other changes afoot as well. Thanks to the increasing popularity of its Macs, Apple, once known as a niche vendor with a limited appeal, now ranks as the fifth-largest PC maker worldwide, according to a new report from research firm IDC. How did it get here? Well, blame the lower prices, among other things.
"[Apple's] steady growth, along with recent price cuts and improved demand in mature markets, has helped it to consistently outgrow the market", overtaking Windows PC maker ASUS to claim the fifth place. The company is still behind Lenovo, HP, Dell and Acer, which occupy the first four spots in that order. The ranking is based on the number of PCs shipped in Q3 2014, which, while we're at it, decreased by 1.7 percent compared to the same period from last year.
While shipments were declining, Apple moved more Macs (4.98 million) than a year prior (4.57 million), increasing its market share, to 6.3 percent from 5.7 percent, in the process. All other makers in the top five posted higher shipments and market shares. Leader Lenovo shipped 15.7 million PCs, for a market share of 20 percent. HP followed closely, with 14.7 million units and 18.8 percent market share, while Dell came in a distant third, with 10.4 million units and 13.3 percent market share. Acer ranked well below it, with 6.63 million units and 8.4 percent market share.
Even though shipments declined year-over-year worldwide, in the US they rose, to 17.33 million units from 16.62 million units. That's a 4.3 percent growth, which is nothing to be sneezed at really. The increase was aided by what IDC calls "portables"; desktops did not follow the same ascending path, however, as they decreased in volume year-over-year.
"PC shipment growth in the United States remained slightly faster than most other regions in the third quarter and overall the U.S. PC market came in right on forecast with 4.3 percent year-on-year growth", says IDC Personal Computer senior research analyst Rajani Singh. "Solid back-to-school sales, a strong performance from key vendors, the continued acceptance of Chromebooks, some commercial uptick from Windows XP to Windows 7 migration, and the slowdown in tablet sales are among the factors that helped the PC market to continue on its positive growth rate trajectory. Moving forward, we expect a healthy holiday season, hence the U.S. PC market may maintain a positive growth rate. However, low demand for large commercial refreshes, combined with competition from 2-in-1 systems, may limit the growth potential".
In the US, HP leads the pack, followed by Dell, Apple, Lenovo and Acer. HP and Dell are competing closely, with the former moving 4.8 million units (27.7 percent market share) and the latter 4.16 million units (24 percent market share). Apple shipped 2.26 million Macs (13 percent market share), slightly more than Lenovo's 1.85 million units (10.7 percent market share). Acer came in fifth place thanks to 1 million units shipped (5.9 percent market share).
The data includes only shipments of "Desktops, Portables, Ultraslim Notebooks, Chromebooks, and Workstations", according to IDC. Tablets were not taken into account; otherwise, we would see a totally different hierarchy.
Photo Credit: sukiyaki/Shutterstock