Want the Windows 10 look? Install the Windows 10 UX Pack or Windows 10 Transformation Pack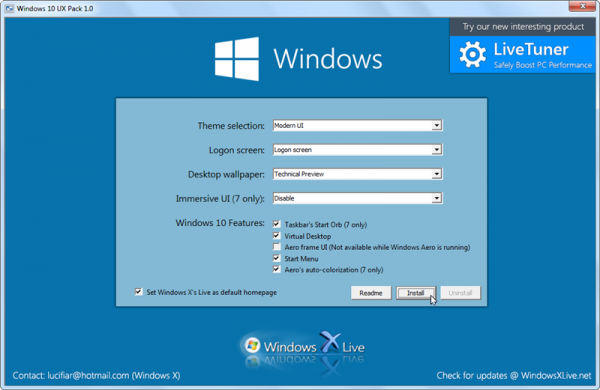 WindowsX has released the Windows 10 UX Pack 1.0 and Windows 10 Transformation Pack 1.0, tools that skin Windows and -- in the case of the Transformation Pack -- patch system files to provide a look and feel that's close to the current preview version of Windows 10.
Of the two, the UX Pack is the preferred choice for those running Windows 7 or later, as it makes changes without patching system files; however, the Transformation Pack does work with Vista and XP as well as later versions of Windows.
The setup is the same for both Windows 10 UX Pack and Windows 10 Transformation Pack: take a System Restore point, then download the zip file before extracting and launching the setup program.
You'll be given a number of choices – the defaults should be fine for most people, but experienced users or those running earlier versions of Windows should explore what's on offer in order to see what tweaks they can perform.
Then it's simply a case of clicking Install, sitting back and waiting for the program to weave its magic. This involves applying new themes, wallpapers icons, fonts and sounds, plus adding certain free tools to emulate parts of Windows 10, such as the new Start menu.
It's this Start menu that will probably attract most people – particularly those running Windows 8 or 8.1 – to these Packs, as it allows you to see how the new Start menu is likely to behave should it stay in its current form as Windows 10 moves through its development cycle.
Both tools also make it possible to undo all your changes and return to your existing settings – something we suspect most people will do once they've had a play -- simply be re-running the setup file again and choosing Uninstall.
And that's the beauty of either Windows 10 Transformation Pack: no need to find a spare partition or virtual machine to try out the Windows 10 Technical Preview if all you want is a quick flavor of how things may look. Just install either and in a few minutes -- even less with the UX Pack -- you're up and running.
Both Windows 10 UX Pack 1.0 (Windows 7 or later) and Windows 10 Transformation Pack 1.0(Windows XP or later) are available now as a freeware downloads.