Is Microsoft trying to confuse users by having Bing look like Google?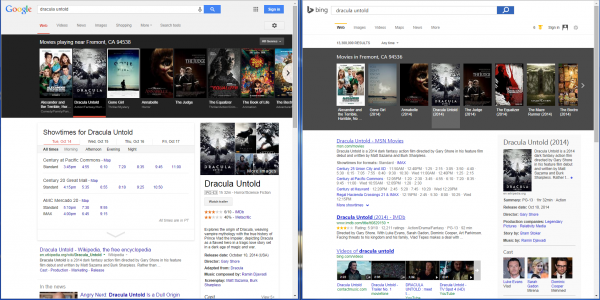 Microsoft has been tweaking Bing's design for a while now. The latest design makes it seem that it wants Bing to be indistinguishable from Google. If you have Bing as the default on your browser (or accidentally clicked a Microsoft prompt to do so), and are not very tech-savvy, you may not even realize that you're using Bing -- especially if you think any type of internet search is "Googling."
Notice how each have a minimalist search bar at the top with options for different searches at the bottom with "Web" highlighted with a colored bar.
And while this may be a bit extreme of an accusation, I can't find a better explanation. If you click on any of the other Bing searches (images, maps), you will find a completely new black bar at the top and not the "Google-esque" options under the search bar. It does not make any sense as to why the web search would get a style different than the rest of the Bing experience, and why that style is so similar to Google's own.
Further, Bing even recently released "Now Playing" movie features, which are a direct copy of Google's. And worse, it's an inferior copy.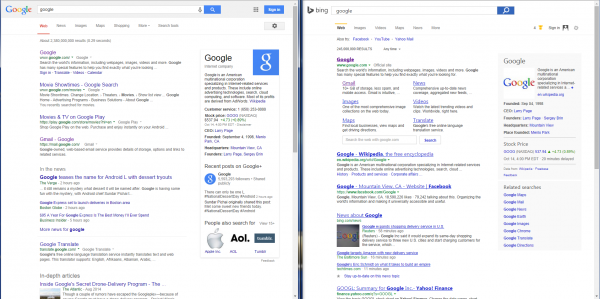 Notice how Google provides more functionality (you can flip through the week or times of the day) and a cleaner design.
A lot of people like to quote Steve Jobs quoting Picasso with "Good artists copy, great artists steal", and that is actually good advice. A good artist will imitate a source of inspiration to create something successful, a better one will create something that will make you forget the source; Bing is a horrible artist in this analogy. Microsoft could have created something that reminds me of how good the source is, but instead makes it clear that its search engine is a copy.
Bing does do some things better, such as how it now shows the full lyrics of a song in a search. These are the type of features I want to see, but unfortunately, most of what it does seems very reactionary to Google.