Nexus 6: vanilla Android never tasted so good [Review]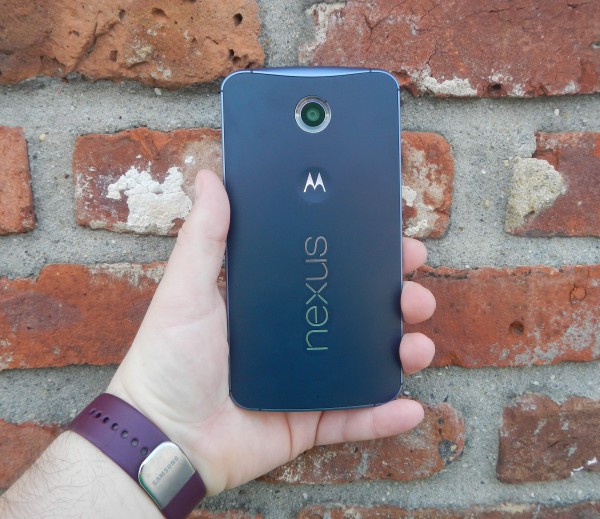 One of Android's most attractive aspects is also its greatest weakness. You see, unlike the iPhone and iOS, Google's Linux-based operating system is available to any manufacturer that is interested. This means you can see many Android devices in different shapes, sizes and styles. Hell, hardware aside, even the operating system can be customized. The problem is, with so much different hardware and tweaked software, many phones do not get regular updates -- this is also due to extensive carrier testing. To the average consumer, this is not a huge headache, as app compatibility is generally fine across versions. Where this becomes an issue is when vulnerabilities are discovered -- delays in updates or a total lack of updates can put a user at risk.
Enter the Nexus line of Android devices. Every year, Google hand-selects a manufacturer to build a smartphone running "vanilla" Android, meaning it is pure and not tweaked or customized. These phones (and tablets) are designed to get fast updates directly from Google. This ensures that not only does the user have the latest features, but the safest and newest version of the operating system too. The latest such phone is the Motorola-built Nexus 6 -- named as such for having a 6-inch screen (technically 5.96 inch). Is it the best Nexus yet?
Specs
Operating system: Android 5.0, Lollipop
System Architecture/Processor: 2.7GHz Qualcomm Snapdragon 805 with quad-core CPU (APQ 8084-AB), Adreno 420 GPU
Memory (RAM): 3 GB
Storage (ROM): 32 GB & 64 GB
Height: 159.3mm (6.27 inches)
Width: 83.0 mm (3.15 inches)
Display: 5.96 inch AMOLED, 1440x2560, 16:9 aspect ratio, 493 ppi, Corning Gorilla Glass 3
Battery: 3220 mAh, Mixed usage up to 24 hours, Qi Wireless charging support
Networks: GSM/GPRS/EDGE, UMTS/HSPA+, 4G LTE
Rear Camera: 13 MP IMX 214 Image Sensor f / 2.0 aperture, Optical Image Stabilization, Ring flash with dual LEDs, 4K UHD video capture 2160p (4K) UHD, 1080p HD and 720p HD video capture modes (30fps), HDR+
Front Camera: 2 MP
Wi-Fi: 802.11ac 2x2 (MIMO)
Speakers: Dual Front Facing Stereo Speakers
Colors: Midnight Blue or Cloud White
Impressions
Upon removing the phone from the box, I got goosebumps from the beauty and design. The back of the Nexus 6 is curved, creating a wonderful feel in the hand. It is easy to grip, and the Motorola "dimple" allows your index finger to rest comfortably. Believe it or not, the word "Nexus", is not form over function -- the letters also increase the grip.
Both the volume rocker and power button are found on the middle of the right side; the perfect place for my right thumb. I have very small hands too, and found reaching the buttons to be effortless. I particularly like the fact that the power button is serrated, differentiating itself from the smooth volume rocker, preventing accidental presses.
I was rather surprised at the size. Was it too big? Quite the contrary -- I was surprised at how small it was. Don't misconstrue my words, it is still a huge phone, but not much more than the Galaxy Note 4. In other words, Motorola did a nice job on the bezels, preventing the humongous display from making the entire package unwieldy.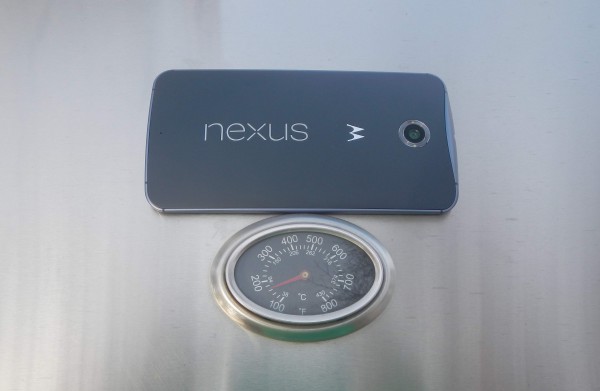 The bezels are put to good use, however, as the top and bottom house dual stereo speakers. Sound is wonderful; adequately loud with no distortion. Unfortunately, not all is roses here; the design choice is ponderous, featuring protruding plastic grills. Sure, they do a great job of preventing fingers from obstructing sound, but they are also kind of ugly. Coming from the wonderful Galaxy Note 4, I frequently press the bottom speaker, thinking that the bump is a button.
Unfortunately, I also encountered a bug or design flaw when playing sounds. You see, after a sound plays, sometimes a distorted static-like sound continues to play for a few seconds before ending abruptly. Thinking it might be a one-off, I tested this on a different Nexus 6, but experienced the same. Is it a deal breaker? No, you really have to listen for it to notice it. Hopefully it can be fixed with a software update and is not hardware related.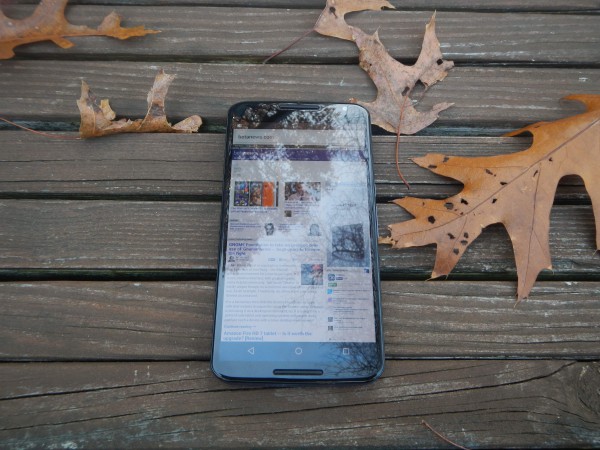 The display is big and gorgeous, lending to a wonderful experience viewing pictures or watching video. When combined with the aforementioned speakers, it is an exceptional mobile cinema experience. With that said, the AMOLED screen is not as vibrant as the Super AMOLED variant found on the Galaxy Note 4. Don't get me wrong, the Nexus 6 display is great, but not the best.
Battery life is a bit of a disappointment -- when I took it off the charger at 8am, it would need a recharge by 6pm with relatively light use. How do I define light use? Email, text messaging and social media. The battery is not removable, so heavy users will want to invest in a USB battery pack. Luckily, Qi wireless charging is included, so when you do have to charge, you can simply lay it on a charging pad.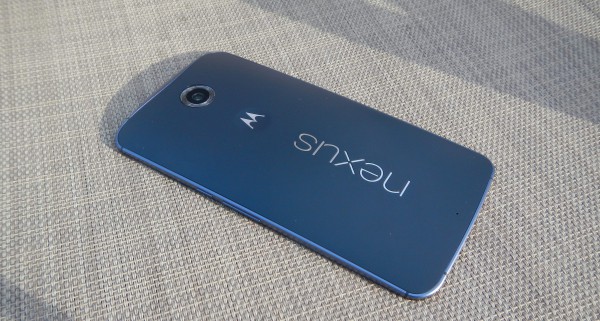 The camera is quite impressive, taking beautiful pictures. The dual-LED flash ring on the rear takes impressive shots in low-light without making them washed out. The true shining star, however, is the video quality. By default, it is set to 1080p, but you can increase that to 4K in the settings. Not only is the video clear and fluid, but the sound is remarkable! It handles voice and ambient sounds extremely well, making it a great choice for capturing precious family members.
Of course, this device is a smartphone, so it will be used very often on cellular data, rather than Wi-Fi. In my case, I am using it on the fabulous Verizon Wireless network. The Nexus 6 exceeded my expectations immensely with signal quality; I am able to get strong LTE connection in places where I used to get 3G. Call quality is rather good too, as my loved ones said I sounded very clear.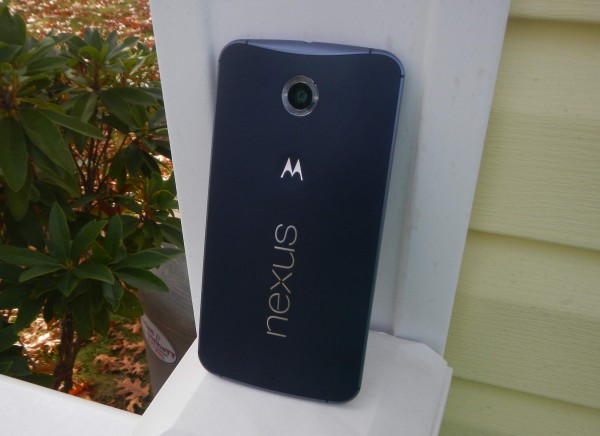 The beautiful thing about the Nexus 6, is that the one model works on all carriers. The last time Verizon had a Nexus phone, the Galaxy Nexus, it was tied to the carrier, which delayed updates and hindered ROM development. This will not happen again, as all ROMs and updates should be carrier-agnostic.
Unfortunately, the Nexus 6 does not have a 64-bit processor like its big brother, the Nexus 9. Does this really matter? Not really. Sure, it is not as future-proof, but for now, the 32-bit Snapdragon 805 is a beast. By the time 64-bit becomes essential, it will be time to upgrade from the Nexus 6 anyway.
Navigating Android is absolutely buttery-smooth; there is nary a stutter and never any lag. Lollipop in particular is chock full of animations and graphical transitions and the Nexus 6 handles it all like a champ.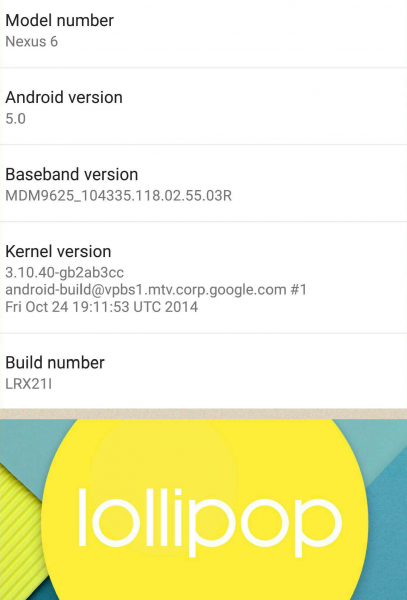 Conclusion
So, is this the best Nexus smartphone ever? Absolutely. Should you buy it? That depends. For some, the phone may be too large, making the Nexus 5 a better choice for those wanting a pure-Android experience. Not to mention, the off-contract price of the Nexus 6 starts at $649, while the Nexus 5 starts at $349 -- that is a significant difference. Of course, the Nexus 5 is not available on Verizon.
To make things harder, the Samsung Galaxy Note 4 has better build quality, better screen, the popular S-Pen and more. Ultimately, if you are OK using a big phablet, you must decide whether you want Samsung's features, or timely updates from Google. Quite frankly, it is a travesty that consumers have to consider OS updates when picking a smartphone. With that said, that is how the Android world works right now, and you really can't go wrong either way.
The Nexus 6 is a great smartphone, and if you can handle the price and size, you will love it.