VSUsbLogon: Log in to Windows with a USB device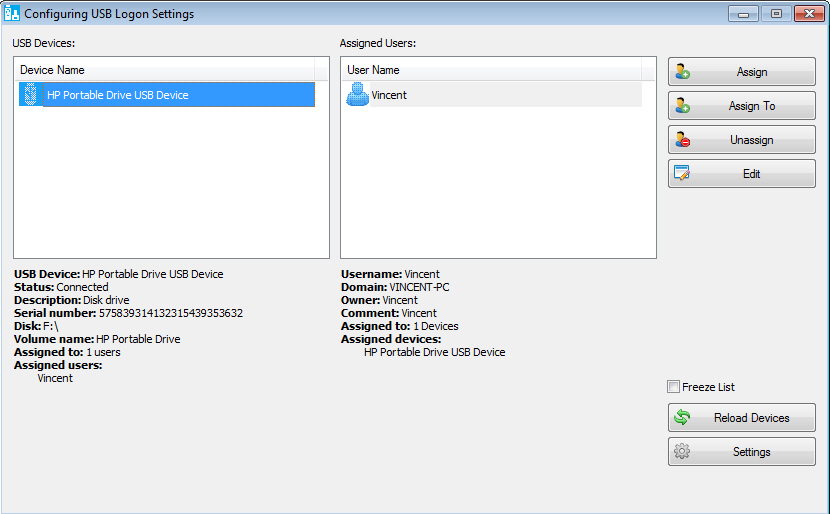 Windows 8 supports several ways to log on to your PC: password, picture password, PIN number, or of course automatic logon with no password at all.
VSUsbLogon is a free tool which also enables you to log in via a USB storage device, like a key, camera, phone and more. This is faster, arguably more secure, and you can also use the key to automatically trigger certain actions, perhaps shutting down your system as soon as it's removed.
The program opens with a list of connected USB devices. Or at least, that's the idea. In practice, we found some of ours were ignored, but after rebooting one did appear on the list.
Choose your preferred device and it can be assigned to a particular user account. Unfortunately you can't choose the accounts from a list, but if you enter the user name then the device will be linked.
VSUsbLogon requires your account password, which it'll use later to log on. You might also provide a PIN number of up to 8 digits, or choose to log in automatically without entering any PIN or password.
Conveniently, the program also supports custom actions to be launched when you insert or eject your device (lock, log off, hibernate, shut down, restart and so on).
We set up our system, unplugged the device, rebooted, and the login screen appeared as before. If you want to access your system with the regular password (or VSUsbLogon hasn't worked for some reason) then you can do so.
When we connected our device, though, an extra VSUsbLogon account appeared. We clicked this, entered our PIN number and it correctly logged on to the account.
Our custom "eject" action worked, too, and unplugging our device automatically caused the system to shut down.
The "Auto Logon" feature was a major disappointment, as it proved worse than useless. Once we checked that box, not only did nothing happen when we connected our device, but we couldn't log on with a PIN number, either.
It's possible this was some odd issue relating to our test system or device, though, and as VSUsbLogon's core functions worked well it could still be useful. Just look out for the adware during installation, and be sure to get VSUsbLogon 32-bit or VSUsbLogon 64-bit, as appropriate for your system.