Fractal Design Core 3300 Mid Tower ATX case -- Quality and value [Review]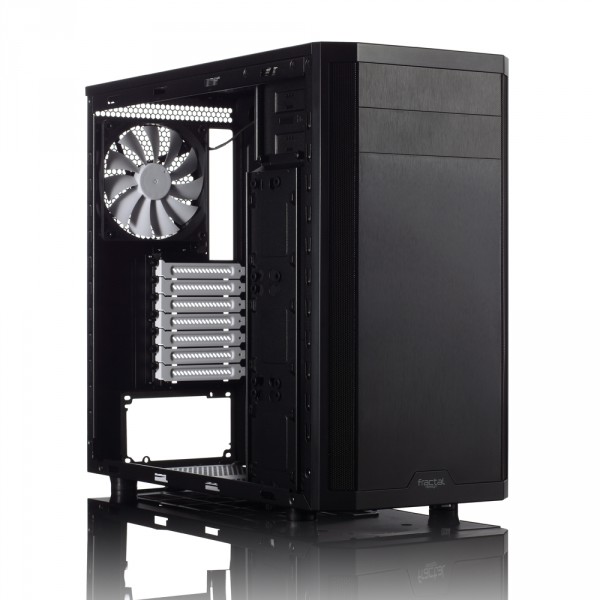 In a world of tablets, the art of building a PC is becoming lost. However, while system-building is less popular than years past, many people still do it -- including myself. Sure, you can probably save money by buying an off-the-shelf Dell or HP, but there is something special about selecting each and every component of your PC -- things like processor, motherboard, and case.
The case is the unsung hero of any build -- it houses your precious components, but does not directly contribute to the overall performance. It is for this reason that many people look to save money and go cheap on a case. This is a mistake, as a case is something you look at often; it should be attractive. Also, while the components inside may change, a good case can be with you over several builds, making it a wise investment. Fractal Design is a company that commands much respect in the system-builder community. The manufacturer's "Core" line of cases provide great quality, while also being affordable. Today, I am looking at the Core 3300 -- a Mid Tower ATX case.
Specs
ATX, E-ATX (up to 295 mm wide) Micro ATX, Mini ITX motherboard compatibility
2 drive bays of 5.25 inch
3 bays 3.5 inch - all compatible with SSDs
2 - 2.5 inch dedicated SSD unit position
7 expansion slots
Support Graphics cards up to 430mm.
Support cooling system: 7 - Fan positions (2 Silent Series R2 fans included)
Filtered fan slots in front and bottom
CPU coolers up to 185 mm in height
ATX PSUs up to 170 mm deep when using the bottom fan location for a 140mm fan; when not using this fan location longer PSUs can be used
22 mm of space for cable routing behind the motherboard plate
Available in Black
Case dimensions (WxHxD):233 x 451 x 517mm
Net weight: 7.8 kg
Impressions
The case comes very well packaged -- Styrofoam protects it from becoming bent during shipping. It sounds like a no-brainer, but you would be shocked at how many cases come dented or bent because the manufacturer skimped on the packaging. Fractal Design's Core 3300 slid out of the box looking flawless and sexy.
The entire case is black, with the exception of the white PCI slot covers. It's a small thing, but the contrasting colors on the rear really pop. Sadly, I tend to populate all PCI slots, so this nice look will be lost on me and others that do the same.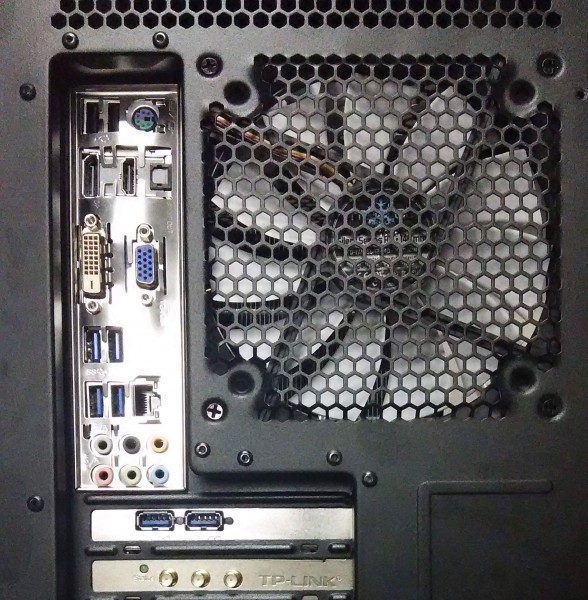 The front is plastic, but made to look like brushed aluminum. The illusion works, and lends to a premium feel. There are no buttons on the front; instead, power and reset have been moved to the top. I rather like this design, but I wish the buttons were a bit larger and had distance between them. You see, the buttons are small and right next to each other -- it can be easy to hit the wrong one when not looking. Also on the top are two USB 3.0 ports that go to the header-connector on the motherboard, plus analog headphone and microphone inputs.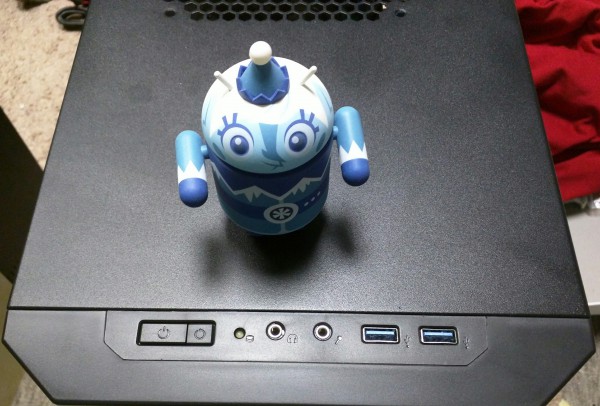 To gain access to the inside, two thumb-screws must be removed and then the side can slide off. Inside, two fans come pre-installed -- a white 140mm intake fan on the front, and an exhaust fan on the rear of the same size and color. While this should offer ample cooling, many will undoubtedly want to add more. Good news -- you can add an additional 140mm intake fan on the front, two more 140mm fans on the top and yet another 140mm fan on the side. You can also add a 140mm fan on the bottom, but only if your power supply is 170mm deep or less. It is absolutely wondrous for cooling.
I was so impressed with how silent the included Fractal Design fans were, that I bought another of the same to mount on the top. Again, the included fans will be enough cooling for many, but overclockers such as myself want as much air-flow as possible.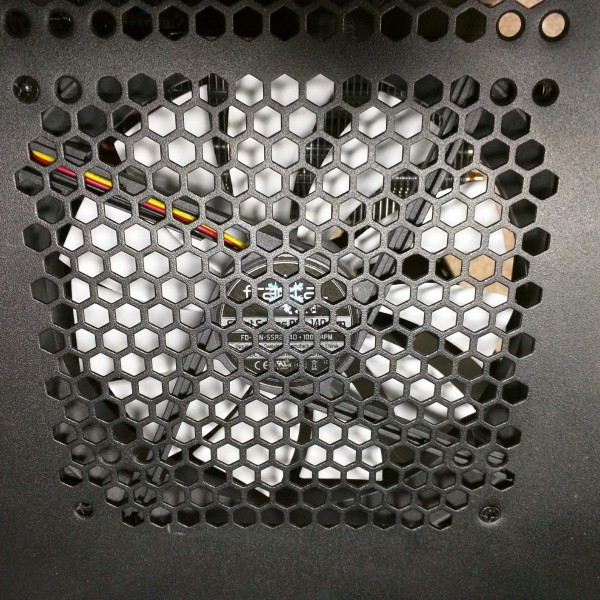 While such a large and wide case is optimal for a full-size ATX motherboard, you can also fit Micro ATX and Mini ITX variants. The motherboard tray is not removable, but there is ample space inside to work comfortably. Luckily, there is a very large cut-out behind the CPU for easy access for future CPU cooling upgrades.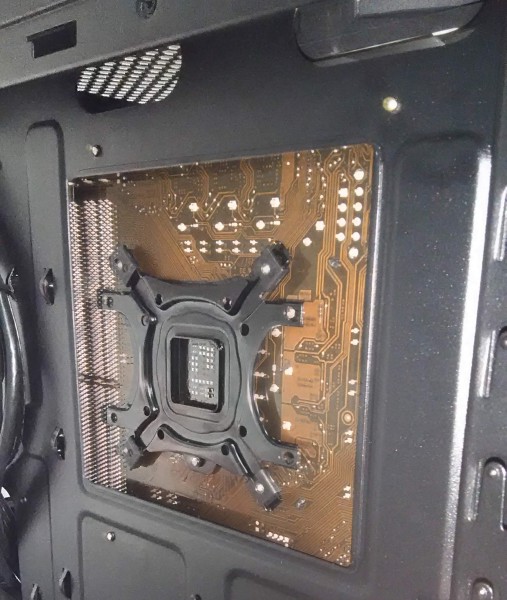 Working inside such a wide and roomy case is a dream, particularly thanks to the incredible removable drive tray/bracket. The vertically positioned bracket can be removed, making it easy to maneuver during the build. As you can see below, with the bracket removed, it is very spacious, making it easy to manage cables and put everything into place.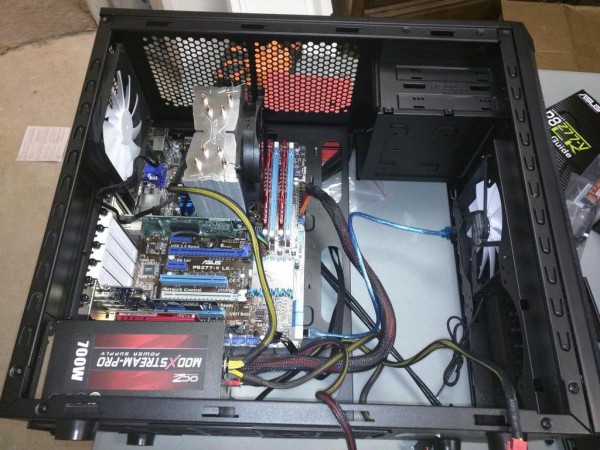 Speaking of the drive bracket, it enables you to mount your drives in a vertical fashion, so that they are on display when opening the case. It is quite an impressive look, but it is not form over function. This design makes it easy to hide cables, and puts the drives in a prime position to share a single wire with multiple SATA power connections. Best of all, it is easily removed by 3 thumb-screws, so you can remove all of your drives at once without needing to unscrew them one by one.
You can also mount two SSDs behind the motherboard tray, but I am not a fan of this. Why? Well, you must screw them in before installing the motherboard, and the same goes for removing them. In other words, to remove your SSD, you would have to remove the motherboard. It is a tedious proposition, that can be a huge headache. With that said, for some, the headache is warranted to have fewer cables inside the main area of the chassis. So while I won't use the mounting option, I appreciate that it is there.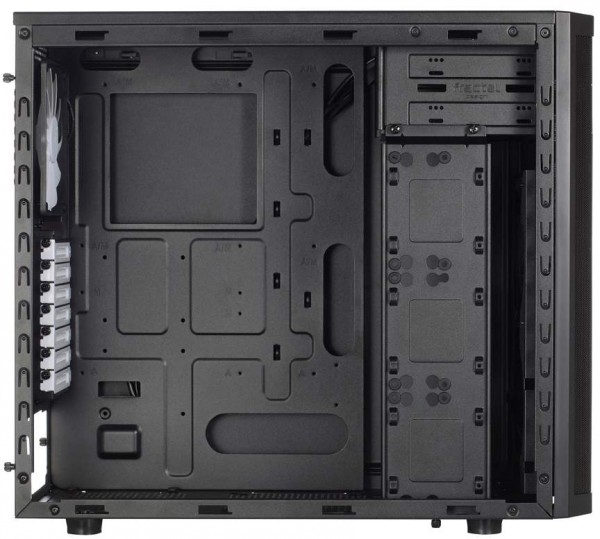 Ultimately, at $69.99, there is no excuse to go with a no-name brand to save money. The Core 3300 looks more expensive than it is, and is built very solidly, ensuring many years of reliable use. Gamers in particular will love having such a wide and deep case that can accommodate even the most insanely large graphics cards. Quite frankly, Fractal Design could charge twice the price and it would still be a great value -- highly recommended.