Samsung U28D590D: An affordable UHD 4K 28-inch monitor [Review]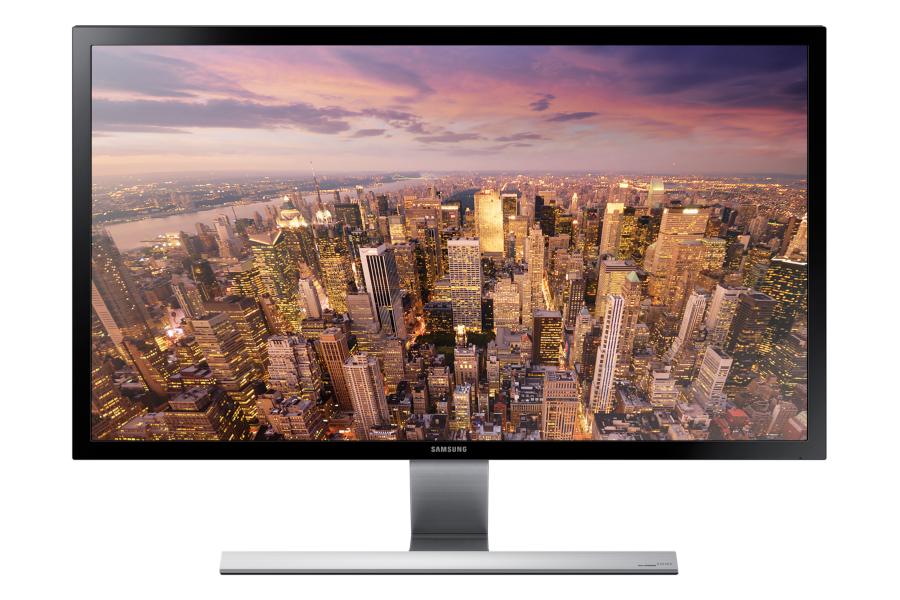 4K displays are becoming much more common, giving buyers a far greater range of choices. The Samsung Series 5 UHD LED Monitor (U28D590D) does a good job of balancing quality with affordability -- just £419.99 from Ebuyer.com including VAT and delivery -- and takes seconds to setup.
The 28-inch LED edge-lit screen offers a native resolution of 3840×2160 pixels, and the monitor sports a black plastic casing with a glossy bezel and an aluminum T-shape stand. Putting it together is just a matter of screwing the neck to the stand (using two pre-installed screws) and then sliding the screen into the neck.
The last monitor I looked at, AOC's Q2770PQU, lets you adjust the height and tilt, and even spin it from horizontal to vertical. With Samsung's offering you're limited to a bit of backward and forward tilt. Depending what you use the display for that's likely going to be enough flexibility, although another downside is it's not the most stable of stands. Give it a sharp tap on the top and it will wobble like mad, although it's not going to fall over.
From a design point of view, the U28D590D is about as simple as they come. There are no buttons or ports anywhere to be found on the front or sides, just a small blue LED at the bottom right to tell you when the screen is on standby or working (depending on your preference). Everything else is on the rear, and again there's not much to report. In the center of the back are two HDMI 1.4 sockets and a Display Port 1.2 input. On the right of those are DC 14V power and 3.5mm headphone sockets (there are no built-in speakers sadly).
The screen doesn't contain the power circuitry, so that means you'll have to find a hiding place for the external power brick.
The only button is on the back towards the bottom left (or the right, as you look at the screen). This is a multi-directional JOG controller which lets you turn the screen on or off, and access the settings. Clicking it displays a small menu on the right side. From here you can go up to select the Menu, right to access PIP/PBP (Picture-In-Picture and Picture-By-Picture), down to power off, or left to switch between sources. It's very intuitive, and I like this approach a lot although I appreciate some people prefer dedicated buttons. From the menu you can access Picture and Screen settings, and open Options (Language, Display Time and Transparency) and Settings (Eco Saving, PC/AV mode, Source Detection, Key Repeat Time, Off Timer, and LED Status). There's also an Information option which will let you see at a glance the source you're using, resolution, and refresh rate.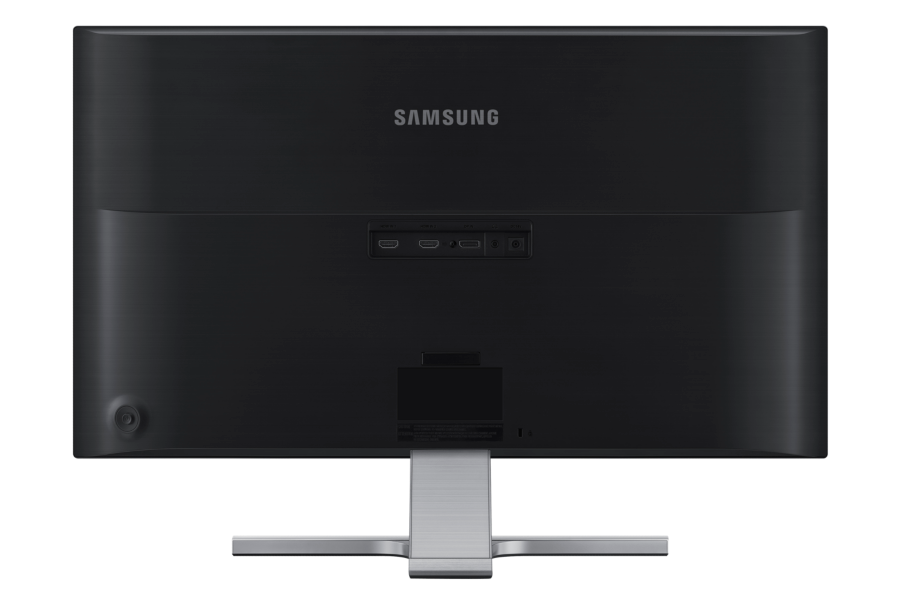 The two HDMI 1.4 ports support 3840×2160 at 30 frames per second, which looks pretty damn good. But if you want to really get the most out of the screen, then you'll need to make use of DisplayPort which supports 3840×2160 at 60fps, and offers a stunning gaming experience, provided you have a powerful enough graphics card. The screen comes with a Game Mode which improves the picture as you play, albeit fairly subtly.
The U28D590D has a TN (Twisted Nematic) Panel, so it delivers very fast response times (1ms), again making it great for gaming. Sure, this panel doesn't offer as good color reproduction as an IPS screen, but Samsung attempts to make up for the panel's "shortcomings" (if you can truly call them that), with its MagicBright and MagicAngle functions which can be enabled and configured in the menu. The latter option offers two lean back modes, a standing mode, a side mode, a group view, and a custom setting.
Can you see a difference when comparing the TN panel with a new IPS display? Yes, but only if you're looking for it and even then the difference is minimal. I found the test panel's uniformity to be pretty good, although the brightness did drop off a little towards the left hand edge of the panel, and the color temperature cooled a bit towards the right, but unless you're very picky, you certainly won't be disappointed with the U28D590D's screen. Not for the money anyway.
A lot of the time you probably won't get the most from the screen's capabilities (when you're emailing, or browsing the web for example), but when you do, the picture quality will definitely blow you away. YouTube offers a growing number of videos in 4K resolution, but watching something like TimeScapes is definitely recommended if you want to see exactly what this screen is capable of.
I'd have liked to see a greater selection of inputs (VGA and DVI) and with it sitting in the middle of my multi-monitor setup (flanked by 22 and 20 inch displays) I can't help but think it would look great wall mounted, but there's no option for that. A more flexible stand would be great (though I'd take VESA mounting capabilities), and speakers and USB ports would be welcome as well, but those are pretty minor quibbles.
If you're looking for a 4K screen (and once you go 4K you can't go back -- trust me) then this is an excellent, and affordable choice. Highly recommended.
You can buy it direct from Ebuyer.com for £419.99.
Specifications
Display
Screen Size 70.8cm (28")
Aspect Ratio[B2B] 16:09
Panel Type TN
BLU Type[B2B] LED
Brightness 370cd/m2
Contrast Ratio 1000:1 (Typical)
Dynamic Contrast Ratio    Mega ∞
Resolution 3840x2160
Response Time 1ms (GTG)
Viewing Angle (H/V)[B2B]    170°/160°
Color Support 1B
General Features
Embedded Function Eco Saving, Samsung MagicAngle, Samsung MagicBright3, Off Timer, Image Size, UHD Upscale, PIP 2.0, PBP
Additional PC S/W Easy Setting Box
OS Compatibility Windows, Mac
Windows Certification Windows 8.1
Interface
Display Port 1
HDMI 2
Headphone 1
Power
Power Supply AC100-240V (50/60Hz)
Power Consumption 32W (Energy Star current test condition)
Power Consumption (DPMS) (W)[B2B] 0.3W (Typical)
Power Consumption (Stand-by) 0.3W (Typical)
Type External Adaptor
Dimensions
Set Dimension with Stand (WxHxD) 660.9x486.3x169.4 (mm)
Set Dimension without Stand (WxHxD) 660.9x410.0x64.7 (mm)
Package Dimension (WxHxD) 794x452x109 (mm)
Weight
Set Weight with Stand 5.65 Kg
Set Weight without Stand 5.05 Kg
Package Weight 7.4 Kg
Included
Cables HDMI Cable, DP Cable
Others Install CD (Manual), Quick Setup Guide