ASRock announces X99 WS-E/10G motherboard with Dual Intel 10G BASE-T LAN ports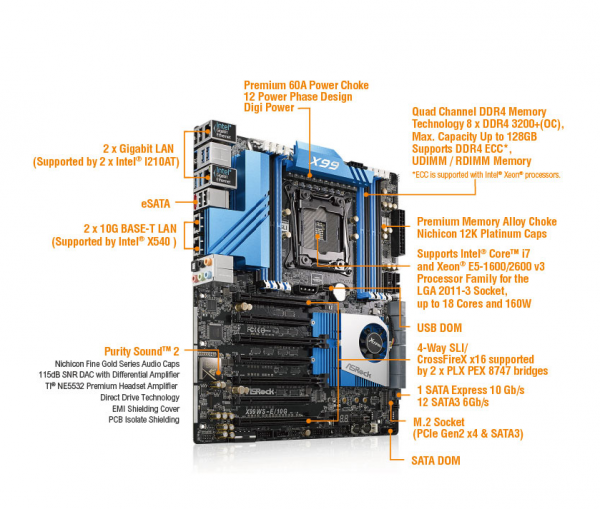 When it comes to computer hardware, it can be very difficult for a manufacturer to differentiate its product from its competitor's offerings. Some companies go the superficial route -- adding fancy lights and colors as a distraction to the overall normalcy. Others will invent proprietary naming conventions for its features, making it seem unique when it really isn't. Both of these approaches are rather lame, but believe it or not, consumers fall for it.
Me? I prefer to see actual unique features and exceptional performance. Sure, truly innovative and impressive hardware can come with a high price, but so does a Lamborghini -- you can like something without buying it right? Yup, you can; often times you don't really need the features, but they are cool nonetheless. Today, ASRock announces one of the most unique and impressive motherboards that I have seen in some time. How so, you ask? The X99 WS-E/10G board features Dual Intel 10G BASE-T LAN ports! Very cool, but do consumers really need it?
"ASRock X99 WS-E/10G is a crossover between a hardware enthusiast motherboard and a workstation. Identical to other ASRock X99 Super Alloy motherboards, it supports LGA 2011-3 CPUs ranging from 18 core 160W Xeon E5-1600/2600 v3 processors to unlocked Intel Core i7 CPUs. Same as the rest of the X99 motherboards, it has eight DDR4 memory slots that support quad channel ECC technology, UDIMM/RDIMM memory modules up to 3200+(OC) and a maximum of 128GB capacity. On the other hand, the storage options are about as good as X99 Extreme11. Users may find 12 SATA3 ports, 1 SATA Express 10Gb/s connector, 1 PCIe Gen2 x4 M.2 slot, a SATA DOM and a USB DOM", says ASRock.

The manufacturer further explains, "what makes ASRock X99 WS-E/10G so fast is the onboard Intel X540 Ethernet controller. This single chip is capable of supporting dual 10G BASE-T LAN ports, which are ten times faster than your ordinary gigabit LAN and usually only seen on server boards. Aside from the two 10G BASE-T LAN ports, there are two more Intel gigabit LAN ports each supported by an Intel I210AT Ethernet controller, and best of all, support for quad LAN Teaming. By running IxChariot to test our quad LAN setup's internet bandwidth, we've reached a mind blowing 20,360 Mbs!"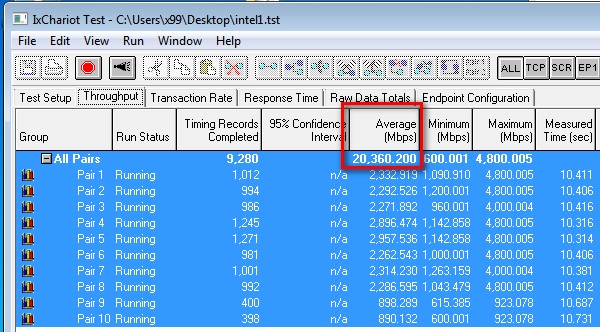 Yes, this board is overkill for many people in the USA -- most home consumers do not have access to an Internet provider that can come close to saturating 10G BASE-T LAN. In other words, if a home user buys this board, it will be mostly for bragging rights. With that said, 10G BASE-T LAN aside, it is an extremely impressive enthusiast board that will please even the most hardcore builder. Hell, gamers will love the 4-Way SLI and CrossFireX options.
Sadly, pricing and availability are not yet known.
What do you think of the ASRock X99 WS-E/10G? Tell me in the comments.