Handbrake 0.10 ends XP support, adds H.265 encoder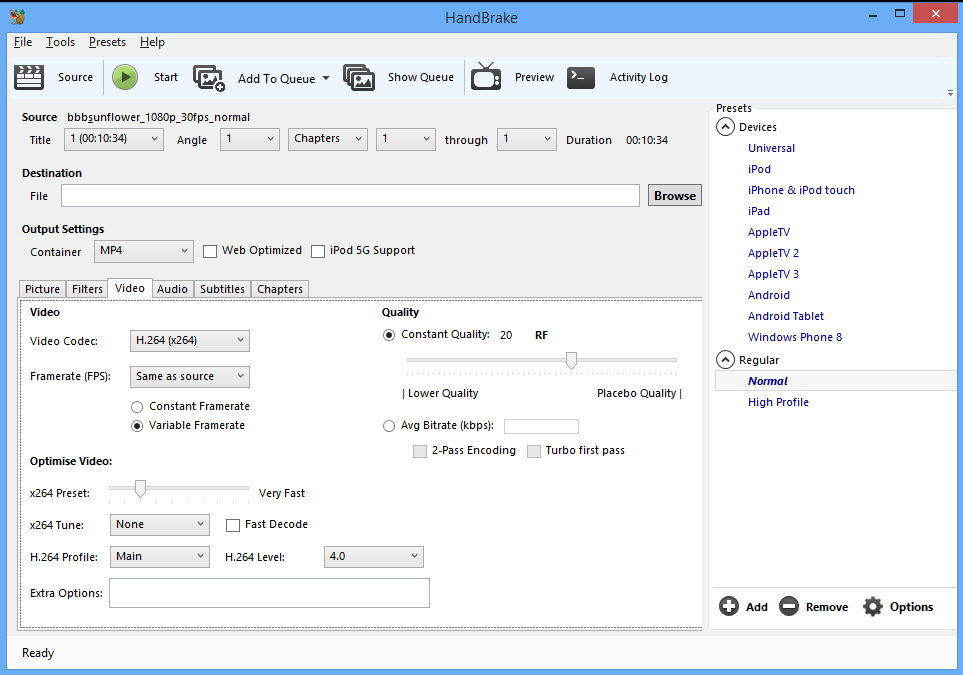 Popular open source video transcoder Handbrake has been updated to version 0.10 with some major additions and improvements.
New encoders include Intel Quick Sync Video, a speedy hardware-based H.264 encoder. Basic H.265 support is provided by x265 1.4, while WebM's libvpx can encode VP8 to MKV files (and sees Theora deprecated).
A new NLMeans filter should see better quality denoising. It can also be horribly slow, unfortunately, but the old hqdn3d filter now has individual settings for each chroma channel, and should also offer improved results.
The Presets Panel has gained a Windows Phone 8 Preset. Handbrake's Windows build has an option to hide the panel as required, and you can choose your target format from a new Presets menu, instead.
Other Windows tweaks include fixing the program's tab ordering, and providing an option to always use system colors. Makes sense to us, but keep in mind that this isn't turned on by default. If you're interested, click Tools > Options > General, check "Always use System Colors", click Close and restart the program.
An experimental OpenCL-based bicubic scaler provides a small performance improvement when downscaling on compatible systems (AMD/ Intel GPUs supporting OpenCL 1.1), at the cost of some loss in quality. Not too interesting just yet, but these are early days, and the old Lanczos scaler remains the default.
Perhaps most notably of all, Windows XP is no longer supported. The minimum version is now Windows Vista with SP2. But if that's not a problem, Handbrake 0.10 (32-bit) and Handbrake 0.10 (64-bit) are available for download now.