Black Friday deals -- get a discounted Roku device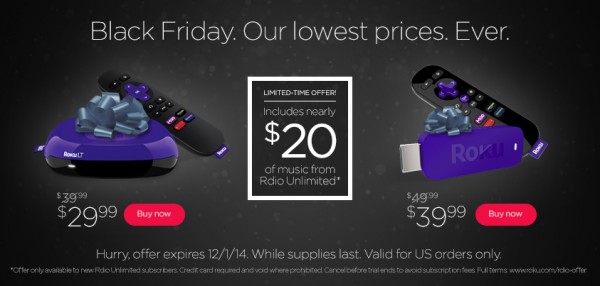 We've reached that time of the year when merchants offer deals and people are hungrily shopping. If you still read a newspaper then today's edition is likely a bit heavy, laden with ads for Black Friday sales, some of which are already underway.
Roku is also getting in on the action, offering some nice discounts on its TV devices, both set-top box and stick. Bringing streaming online media to your living room, the company is offering some good deals and throwing in a bonus to go along with your purchase. And you don't need to leave home and fight angry shoppers for it.
The Roku LT box has been reduced from $39.99 to $29.99, while the streaming stick also gets a $10 discount, dropping the price to $39.99. Both are good deals for yourself or a gift for another person.
To go along with this deal, purchasers will get 60 days of free Rdio Unlimited. That's a $20 value, and provides streaming access to millions of songs right from your new device.
Customers in Canada also get a deal -- the same Rdio Unlimited offer, accompanied by a $25 Cineplex store credit. If you're in UK then you'll have to settle for just the Rdio deal, sorry.
This offer ends on December 1st, so you'll need to act this weekend if you want to take advantage of the deal. If you're in US then you'll need to decide between the two devices, otherwise you won't get the discount or the music deal.