Android business users get a virtual desktop in the cloud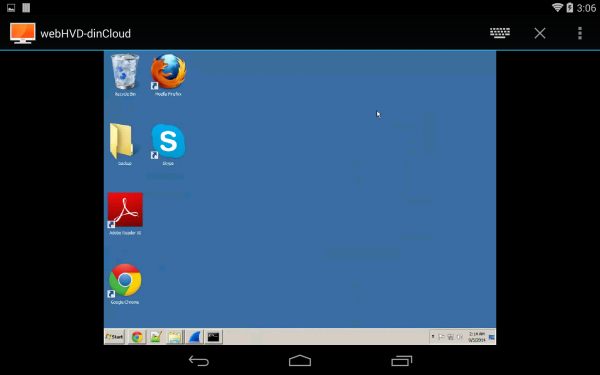 One of the key reasons why businesses migrate their systems to the cloud is to make them easier to access from anywhere.
But that can create complications where office systems are Windows based and mobile devices are running a different OS. Cloud services provider dinCloud has an answer in the form of webHVD, its HTML5-based virtual desktop.
The company has now released an Android version of the app which supports Adobe Flash, Microsoft Silverlight, YouTube, Netflix and more, and is ideal for businesses with 50 or more Windows desktops. It's compatible with a wide selection of Android devices including Google's Nexus 7 and the Samsung Galaxy range.
Companies can use webHVD as a replacement for remote access VPNs and other technologies that allow access from home or remote locations. No backend or virtualized infrastructure setup is required, allowing customers to provision, access, or upgrade a turnkey desktop within minutes.
"As tablet growth approached almost 10 percent in the 3rd quarter, it has created an exciting opportunity for companies to utilize a hosted virtual desktop offering like webHVD," says Mike Chase, CTO at dinCloud. "Users want to connect to legacy applications from any device, and now that Android has an extension for Chrome, we provide an application for this without traditional and costly VDI set up when using a Windows virtual desktop in the cloud".
The webHVD Android app offers a number of features including anytime accessibility, security that requires the user to enter their password and PIN code, similar to the Google Chrome app and an easy-to-use virtual mouse and keyboard for data input. There's also a Send Key facility allowing the use of commands like Ctrl+Alt+Del and the ability to zoom in and out.
Existing webHVD customers can download the free Android app now from the Google Play store.