Install, update and manage your software with NeoSetup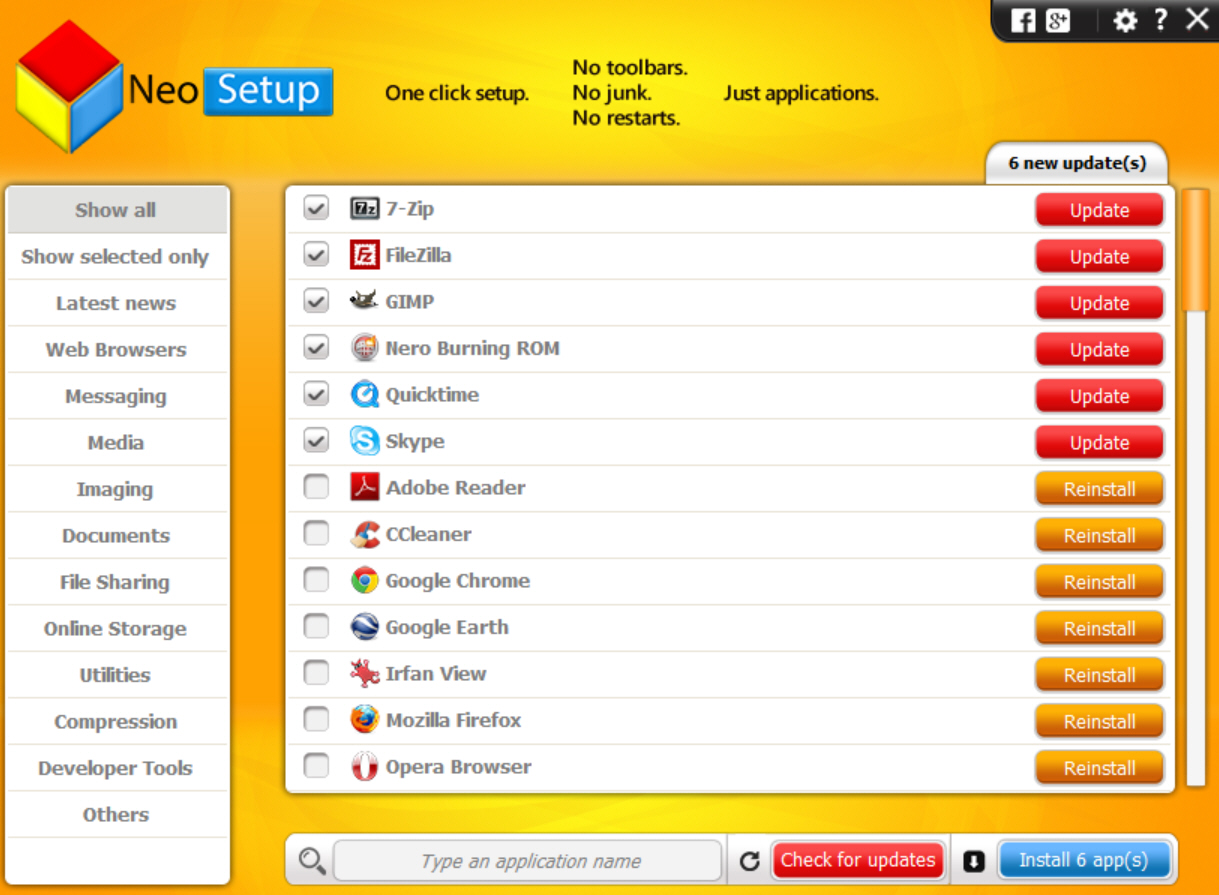 Keeping Windows software up-to-date can be complicated. There are settings to be configured, maybe several update processes to be left running, troubleshooting rules to follow if they don't work. And of course if an application can't check for updates itself, you'll have to do it manually.
NeoSetup is an application manager which simplifies this process by installing and updating many applications for you.
Launch the program and it displays the current status of all supported applications. These include Firefox, Chrome, Opera, Skype, Thunderbird, QuickTime, VLC Media Player, iTunes, GIMP, Irfan View, Paint.NET, Adobe Reader, OpenOffice, Dropbox, Google Drive, CCleaner, TeamViewer, 7-Zip, WinRAR, Notepad++, Evernote and Google Earth.
Any outdated applications are displayed at the top of the list. If you're missing a patch, click the Install button and NeoSetup immediately downloads the new version and installs it -- silently, where possible -- in the background.
If you don't have one or more of the programs, maybe because you're just setting up a new PC, then again NeoSetup can help. Check the boxes for anything you'd like, click Install, and just watch as each application is downloaded and installed. Again, these are silent installations so you won't see any setup programs, and it even claims to "suppress all types of browser toolbars, third-party apps and offers that are displayed by application setups".
This all worked just fine for us, although we did notice that multiple programs were downloaded one after the other, never in parallel. Most of the supported applications are small, and typically you'll only download a single update at a time anyway, but being able to run more could notably improve performance in some situations.
By default NeoSetup checks for new application updates every day, and launches along with Windows to tell you about them. But if that's a problem then you can turn this off, or set update checks to run hourly or weekly.
There's also a convenient News tab which lists recent updates, and displays links to descriptions of the original programs.
While testing, we encountered an annoying problem on one PC. NeoSetup would correctly install an update, but then failed to spot when it finished, and so remained unavailable until we closed the process manually.
We have no idea how widespread this issue might be, though, and if you can avoid it then NeoSetup has many pluses: no adware, wide software support, silent updating, and the News feature to track recent releases. Worth a look.