E FUN offers up three super cheap Surface Pro wannabes ahead of CES 2015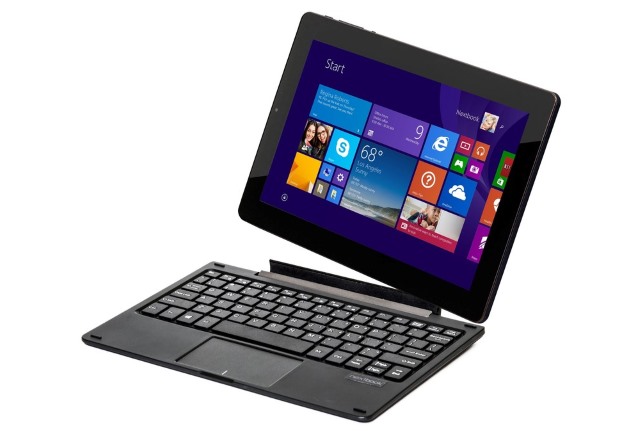 It had a bit of a rocky start, but Microsoft's Surface devices have ended up more popular than more people would have imagined. But if there's one complaint that crops up time and time again, it's that the tablet cum laptop is a little on the expensive side -- a Surface Pro 3 could set you back up to $1,949.00 (512GB / Intel Core i7 model).
If you feel priced out of the market, E FUN (nope, us neither) has a trio of cheap alternatives that might suit your pocket. Ranging from $229 to $279, the Nextbook devices include a removable magnetic keyboard and boast touchscreens, and details have been announced ahead of CES 2015.
There are three screen sizes to choose from -- 10.1" 1280x800 IPS, 11.6" 1366x768 IPS, and 12.5" 1366x768 TN -- and these Windows 8.1 devices are powered by a 1.8GHz Quad-Core Intel Atom Z3735F processor. There's 2GB of RAM, and storage is also a little on the light side with just 32GB gracing the smallest device, and 64GB in the two larger-screened models. In all three cases, a microSD card can be used to boost storage.
The keyboard includes a USB port for connecting devices, and you'll find a micro USB port, mini HDMI port and audio jack on the main body. As you'd expect there's also Bluetooth 4.0 and WiFi 802.11 b/g/n connectivity, and cameras on the front and rear. Aimed at everyone "from professionals to students and casual users of any age", the Nextbooks feature a 3-axis sensor for interacting with apps and games.
Jason Liszewski, managing director and VP of sales for E FUN said
We are extremely excited to build on the great success we had launching our first tablets with Windows in the fourth quarter of last year. Our first 2-in-1 tablet with Windows and powered by Intel was one of the best-selling devices by volume throughout the holiday season.
These are clearly budget devices -- $229 for 10.1 inch, $249 for 11.6 inch, and $279 for 12.5 inch -- but the value of the cheapest model is increased thanks to the fact that year's subscription to Microsoft Office 365 Personal is included. Oddly, this offer is not available to anyone buying a larger-screened version.