Alcatel Pixi 3 comes with a choice of three OSes -- and Android will still win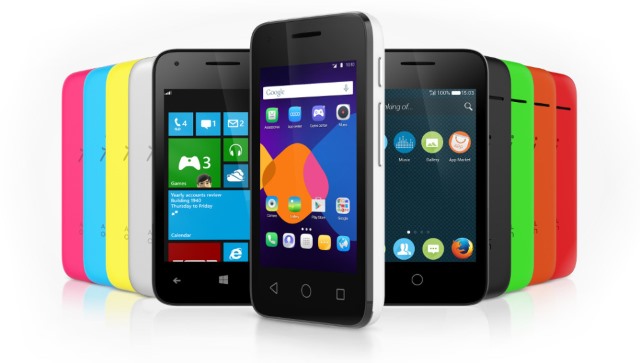 When it comes time to buy your next smartphone, will you be swayed by hardware or operating system? Forget iOS for a moment; put Apple's mobile OS out of your mind for right now. Hardware to a large extent determines price, and an upcoming range of budget phones from Alcatel offers an interesting choice.
The Pixi 3 -- that rainbow-colored delight you see above assaulting your eyeballs -- comes with a choice of four screen sizes, and three OS choices. The smallest measures just 3.5 inches, but 4, 4.5 and 5 inch models are also available. But the interesting thing is that each is available with a choice of Android, Windows Phone or, erm, Firefox OS installed.
The hardware is identical for each phone, save for a couple of things. Firstly, obviously, there is the difference in screen size, but the smallest device is 3G only while the remaining three are LTE-compatible. At this stage we know little more about the specs, but more will be revealed at CES 2015 next week.
There have long been rumors -- and even botched examples -- of phones that run two or more operating systems, but that's not what we're seeing here. The choice you make when you buy the phone determines the OS you are stuck with. It's hard to imagine that even when the dilemma of hardware is taken out of the equation that Windows Phone or Firefox OS will prove more popular than Android.
Interestingly, as pointed out by the Verge, there's a chance that Alcatel's upcoming handset could be tied in to a revival of the Palm name. Tellingly, just a couple of months ago the trademark was sold to a company owned by Nicolas Zibell, President, Americas and Pacific at Alcatel One Touch. The Palm website, Palm.com, recently sprang back to life, now redirecting to mynewpalm.com, a site that bears the words Coming Soon.
We'll know more in the next few days.