THIS is what it takes to protect your iPhone from breaking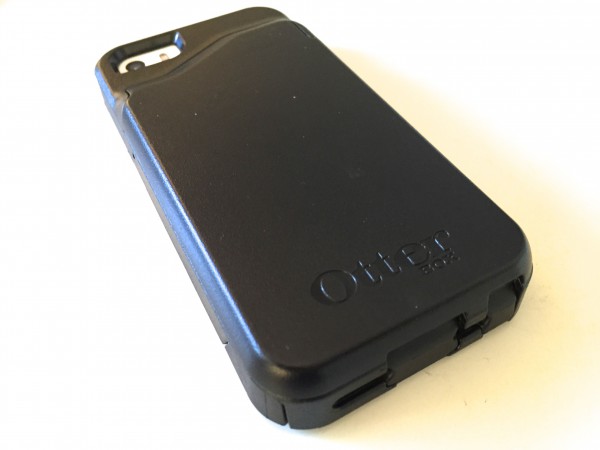 Do you remember the old Nokia bricks—even the Finnish manufacturer's early smartphones? They were tanks. They were the Arnold Schwarzeneggers of mobiles—handsome and rugged. Then along came iPhone, and beauty bested brawn. Eight years after Apple cofounder Steve Jobs showed off the first prototype during January Macworld, design ethics applied to the original curse millions of iPhone owners today. The mobile is too destructible.
In July 2014, I wrote about my 20 year-old daughter's breakage streak: Three shattered iPhone 5s screens in about three months. The photo you see, taken on Christmas Day, is what her newest replacement looks like today. What's wrong with this picture? Need I even ask? The mobile's delicate design features are lost in protective gear that shouldn't be necessary. iPhone is flawed by design.
Six months ago, from Amazon, I bought my daughter the OtterBox Commuter Wallet, which successfully protected iPhone 5s from countless drops. "Not a break", she said, when swapping the weathered case for the newer one shown above. My wife exclaimed: "Oh"—in a moment of recognition and remembering—"mine is gold, too". Her iPhone 6 also is cased, and for so long she had forgotten the color. Why shouldn't she?
The good news here, for anyone suffering from—let's have some fun with this—breakgate, the right case can protect your device, like some handsome cop covered in riot gear. Your phone will be safe, but you won't much appreciate its beauty either. Not that I think much about beautiful but breakable by design.
That's not fair!
Some readers will fault me for singling out Apple, when any smartphone with big honking screen surely is equally vulnerable. Some experts agree. SquareTrade rates iPhone 6 a four and the Plus a five on its breakability index. Both devices rate "medium risk", and lower score is better. By comparison, Samsung Galaxy S5 falls into the same category but higher—and that's not good—score of 6.5.
While praising the new handset's durability, SquareTrade cautions: "iPhone 6 Plus lost some points because some users may have a hard time gripping the phone due to its large but slim form". Mmmm, that's my experience with iPhone 6, not because of size but design. As explained in my iPhone 6 review, the smartphone is the first model made by any manufacturer that I feel obliged to case. The mobile is too slippery, because of the design. The rounded edge-frame doesn't grip in the hand like the flat feature found on iPhone 4 and 5 generations.
Speaking of iPhone 4, or 4S, and decisions that put external design before function, glass on both sides essentially doubled the shatter risk. No surprise, in late 2010, SquareTrade reported a 48.6 increase in reported iPhone 4 accidents compared to predecessor 3GS. This and other decisions reflect a design ethic that hasn't changed since the original's release: Beauty before brawn.
Other SquareTrade data presents another perspective: In September, the insurer estimated that damaged iPhones cost Americans stunning $4.8 billion over the previous two years and $10.7 billion since the original's release in June 2007. Here's what the first number really means: $4,800,000,000. That's a whole lot of zeros.
Another startling cut of the data: Americans spent $23.5 billion to repair or replace all smartphones since iPhone launched. Apple's handset accounts for 45.5 percent of all money spent on damaged smartphones. Yikes!
Something else: SquareTrade claims that 26 percent of iPhone users have cracked their screens, and 15 percent currently use the devices in such state.
Three Phone Calls
How much protection is really necessary, from Apple's point of view? This morning I called three Apple Stores enquiring about cases, asking first if many people buy them. At Fifth Avenue, Manhattan, the specialist said, yes, but also "some people just like the look of the device", and carry the phone—my word, not hers—bareback. I feigned having recently purchased an iPhone 6, for which the case selection is limited in the store. The specialist recommended Tech21 Evo Mesh Case, for impact protection and because "it's clear if she [my daughter] still wants to show off the details and color". The Apple specialist suggested OtterBox cases as alternative for protection but that the brand isn't carried in the store.
Apple Store Tysons Corner was the first to open, in May 2001, and that's where I called next, with the same set of questions. There, the specialist recommended Apple housebrand silicon or leather cases or the Tech21. In her experience, "Tech21 is the most popular for the iPhone 6". One reason: "Some of our customers want to enjoy the color of their iPhones". She added: "The Tech21 is a full-body case".
Next up, here in San Diego, Fashion Valley. "A lot of people do purchase cases", the specialist answered to my first question. She then asked how old is my daughter, and I said teenager. "What I do recommend, because a lot of teenagers do drop their phones, is one of the OtterBoxes we do sell in the store", the specialist suggested. She also recommended the same Tech21 case, calling it popular and protective. However, for a teenager, more protection might be better. "The OtterBoxes pretty much cover the whole phone".
What I took away from the three conversations: Protective case is recommended, but many buyers really don't want to cover up their pretty phones. Isn't appearance one of the major reasons for buying the handset in the first place? But the point is larger: If Apple Store sees need to carry and recommend protective gear, then it's necessary. If necessary, isn't that concession the phones are too delicate? I say that's design by design, because Apples chooses beauty before brawn, which is rather pointless if buyers can't really appreciate the form.
Photo Credit: Joe Wilcox