4K is passé -- HP jumps on the 5K monitor bandwagon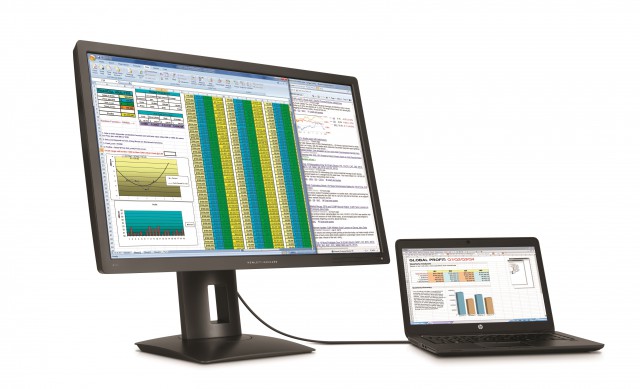 It is difficult to imagine that 4K is no longer the best that you can get today. After all, it is just starting to gain traction among consumers, and the selection of available devices has not even matured yet. However, 5K is already here, knocking 4K down a notch.
Apple is the first major player in the industry to have embraced 5K, when it announced iMac with Retina 5K display a couple of months ago. And, now, HP is following suit with its own 5K offering, the new 27-inch Z27q.
Z27q is the single 5K offering among HP's eight new monitors, offering a resolution of 5120 by 2880 using an IPS panel, that is touted to be factory calibrated nonetheless. The company claims Z27q offers 300 nits of luminance, 1.07 billion colors, picture-in-picture and picture-by-picture.
Here are other noteworthy specs: 178 degree horizontal and vertical viewing angles, 8 ms gray-to-gray response time, anti-glare coating, two DisplayPort 1.2 ports, 5 USB 3.0 ports, tilt between -5 to 22 degrees, swivel between -180 and 180 degrees, weight of 7.42 kg (16.36 lbs), and typical power consumption of 80 W (125 W maximum, 0.5 W in standby).
By using an IPS panel in its 5K monitor, HP is clearly aiming at a very demanding market, one that prioritizes wide viewing angles, among other things. However, despite its impressive features, Z27q will not ship with a sky-high price-tag, as HP says it will only cost $1,299 when it goes on sale this March.
Don't get me wrong -- $1,299 is still a lot of money for a display. However, the only other 5K monitor -- that is not found in the latest iMac -- costs a whopping $2,499 -- it is Dell's UltraSharp 27 UltraSharp UP2715K -- and, by comparison, Z27q is actually really affordable.
Right now, 4K monitors with IPS panels of the same size are not exactly cheap either, as they can be found in the $700-$800 price-range. Still, their price will go down as more 5K offerings arrive on the market.
Of course, alongside Z27q, HP also announced 4K monitors, a "virtual reality" monitor which works with passive 3D glasses, and curved monitors. Of the eight, the virtual-reality-enabled Zvr Virtual Reality Display is the most futuristic; HP has not yet revealed a price for it, but the company says that it will be available this spring.