MSI Z97A Gaming 6 motherboard -- world's first with reversible USB 3.1 Type-C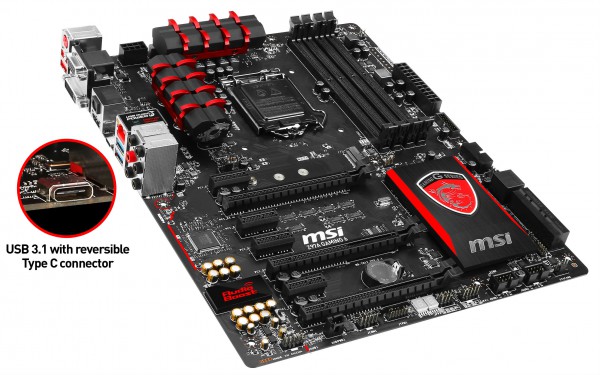 As a system builder, I am a sucker for all hardware. What really gets my motor running is when something is the "world's first". Yes, I am an early adopter. What does this mean? I buy unproven new hardware at a premium, just for the glory of having it first. Smart buyers will wait for price drops and bug fixes, but not I!
Today, MSI announces a new motherboard that has a world's first, and quite frankly, it is something the world has been waiting for. Here it is folks, the first-ever motherboard with an integrated reversible USB 3.1 Type-C port! This is definitely something that will have early adopters drooling.
"The new MSI Z97A GAMING 6 motherboard is the world's first motherboard to feature USB Type-C connectivity. The USB Type-C connector is the future in connectivity and allows for easy connecting of next generation USB through an easy to use connector. With this connector you can blindly connect any device because it allows for upside down plugging in of cables. No longer struggle to connect your devices at the back of your PC with MSI and USB Type-C".
Huzzah! Finally, one of the biggest pain points for computer nerds is about to die a slow death. As I am sure you have experienced, the rectangular nature of USB makes it hard to know which way is up when inserting a connector into a port; USB 3.1 Type-C finally ends the madness. Sure, we've known that the reversible connector was coming, but to see it on an actual consumer motherboard is enough to bring a tear to my eye!
Sadly, MSI isn't too forthcoming on the other features of the board (or the price), but based on appearances, it looks like a beauty, with plenty of options. It should make it a smart buy for a new build if priced correctly.