Mini TV MK808B Plus -- the low cost way to a smart TV [review]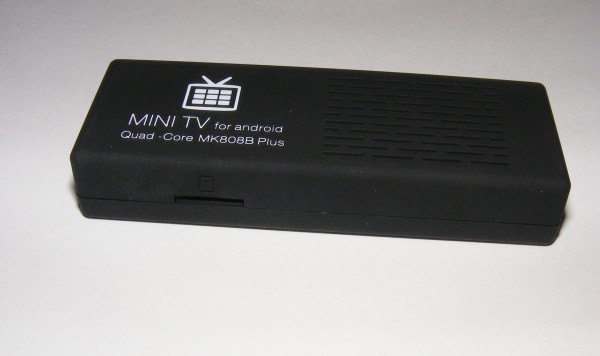 If you want the features of a smart TV but don't want to have to buy a new set or spend $99 on Fire TV then the MK808B, which offers Google TV for less than $35, might be the answer.
It's basically a tiny Android PC that you hook up to your TV set and your Wi-Fi to allow you to stream media from the web or from another device on the same network or via Bluetooth.
The back of the box spec looks impressive with a quad-core 1.5GHz processor, 1GB of RAM and the latest-but-one Android KitKat. It comes with an HDMI Cable, a power adapter, and a USB cable, plus there's a slot for a microSD card if you want to expand the storage.
On the unit itself are a USB 2.0 port, an OTG port, a mini USB power port and an HDMI connector. You can use the USB to attach a variety of devices like webcams or external storage or you can plug in a mouse or keyboard to control the device. The Wi-Fi is dual-band to ensure a good signal and there's built-in Bluetooth too which lets you stream media from other devices.
So much for the theory then, how does it work in practice? When you power up the device there's a few seconds delay while it boots and you're then presented with a chunky, tiled interface that looks a bit like Windows 8 but is no worse for that. Dig into the settings and you'll find there's standard Android lurking underneath.
Setting it up and getting connected to your network is easy. The instructions leave a bit to be desired but the steps you need to take are mostly intuitive if you've used Android before.
You can share media with other devices via Miracast, DNLA or AirPlayer. There are also a number of pre-installed apps including NetFlix, YouTube, Skype and XMBC media player. Playback of streamed media from the web is smooth with good video and sound quality. I did find that it refused to play some YouTube videos though.
You can control the device by plugging in a USB mouse or keyboard, but it's better to install a remote control app -- a link is provided in the instructions -- on your Android smartphone. This makes navigation easier and leaves the USB port free to connect external storage or a headset to use Google Voice commands.
Often what lets budget media devices down is the interface, but because it runs Android the MK808B has no such worries. If you don't like the standard apps you're free to install others you prefer. Add in ease of use and a smooth playback experience and you have to keep reminding yourself that this is a device that only costs $35.
Our review sample was supplied by GearBest.com and currently sells for $34.64. BetaNews readers can use coupon code MK808BCN at the checkout to get it for $29.98. The coupon expires on 31 March 2015.