Bushel makes Apple mobile device management available to smaller businesses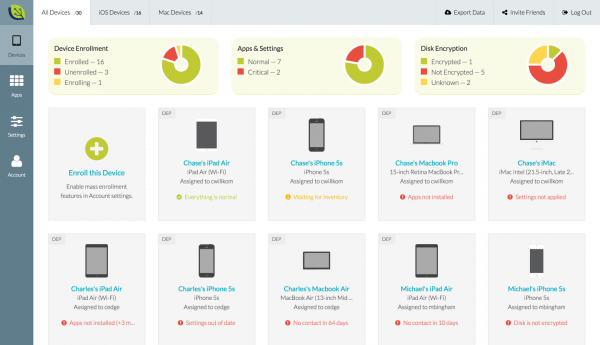 Mobile device management is becoming essential for more and more businesses, but solutions are often complex and difficult for enterprises without specialist IT staff to adopt.
Software company JAMF which produces MDM solutions for iOS devices has launched a low cost, easy-to-use solution called Bushel aimed at small and medium businesses.
Bushel is a cloud-based solution that's designed to be easy to set up, even by non-experts, and can protect Apple devices at any time and from anywhere. It makes complex tasks including Apple device setup, security and management, simple and quick -- enabling users to focus on their business, rather than get caught up with managing technology.
"Bushel marks a remarkable step in Apple device management. For the first time, workgroups and smaller businesses have a solution that is specifically designed for them," says Charles Edge, Product Manger of Bushel. "Bushel enables anyone, including non-technical staff, to manage Mac, iPad and iPhone without the headache. Users can take advantage of all the best in Apple technology, including enterprise-grade security features simply and at low cost. We look forward to this new era in Mobile Device Management as we continue to fulfil our mission of making people's lives easier".
Bushel features easy, hands-free device configuration through the Apple Device Enrollment Program (DEP), as well as comprehensive device inventory features. With automated device enrollment, users can get up and running quickly, while businesses can ensure ongoing management and inventory insight into their devices.
Businesses can automatically install applications to all devices at once, saving time and manpower. Enrollment in Apple's Volume Purchasing Program (VPP) means that management can also keep their application investments in-house with the option of revoking applications from any devices that are no longer in use.
If a device with Bushel is lost or stolen, it can be locked remotely or wiped completely. Users can also require devices to have passcodes and specify a time before a device automatically locks. Additionally, Bushel allows for easy disk encryption and control options to ensure that all valuable business data is kept safe and separate from personal information in BYOD environments.
Bushel can be installed on up to three devices for free so that companies can try it out and thereafter costs $2 per machine per month. You can find out more and sign up for a free trial on the Bushel website.