The FUZE gets an update and new features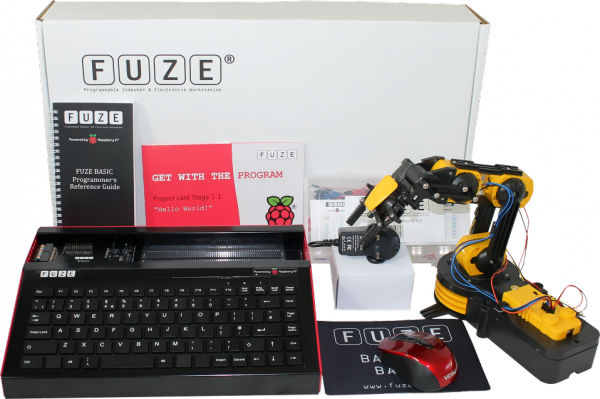 It was over a year ago that the FUZE, a machine aimed at getting a new generation interested in programming, hit the market.
Now there's a revised T2 version of the Raspberry Pi- based machine that brings a number of useful updates and new features.
There's now a built-in USB hub so that spare ports are available after a mouse and keyboard are connected, an uprated PSU and, something that we mourned the lack of in our original review, an on/off switch.
It now comes with an 8GB SD card rather than the 4GB of the old version, plus the IO board has been updated with the main pins duplicated and clearer labeling. GPIO pass through has been added allowing popular add-on boards to be directly connected and the case has gained mounting holes for popular kits and building blocks.
In addition to the hardware changes there's a special edition FUZE-T2-SE available, styled to look like a 1980s home computer. You can also now buy a FUZE complete with a robot arm kit.
The standard version complete with a Raspberry Pi B+ costs £179.99 (around $273) or if you already have a Pi you can buy the unit for £129.99 (around $197). If you want the robot arm the complete package costs £229.99 (around $350). For more information visit the FUZE website.