Microsoft steps into the future with HoloLens, holographic computing meets virtual reality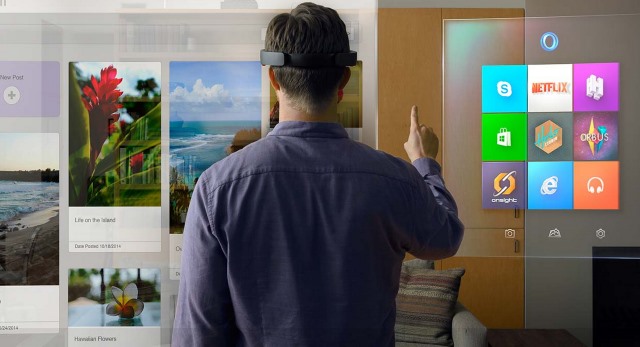 Today's Microsoft event was almost entirely about Windows 10 as expected, but there were a couple of surprises too. Among these was HoloLens a virtual reality, augmented reality, Google Glass hybrid that makes use of holograms for a totally immersive experience. We're used to Microsoft offering a unique window on the world, but this is something completely different.
Like Google Glass and virtual reality systems before it, HoloLens relies on a headset, and this is used to overlay holographic objects onto physical objects in the real world. Like the idea of a massive monitor filling your living room wall? Rather than splashing out on a colossal screen, HoloLens could make it appear as though you have the screen of your dreams.
Of course there are many more applications, but the real selling point is that it will enable users to interact with objects in three dimensional space. You know those scenes from Minority Report where screens float in the air and can be operated via virtual touch? This is just one of the things HoloLens could bring you.
With HoloLens any object can become a surface onto which digital elements can be virtually projected. Empty spaces can be used to house three dimensional virtual objects which you can interact with in real time -- the design implications are immense.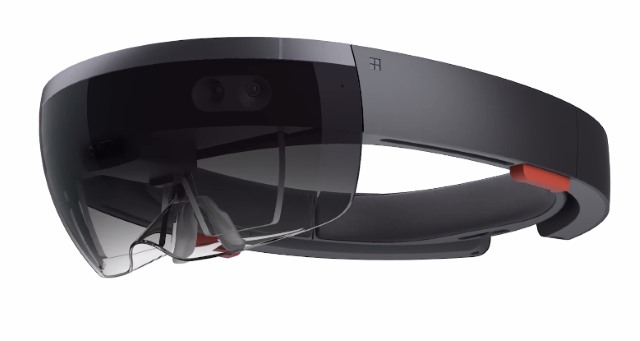 Microsoft points out that while the headset offers a heads up display, it is completely transparent so you can always see the real world. In actuality, it is the fact that the real world and the HUD are visible at the same time that makes HoloLens what it is. As you work, documents, emails, pictures and models can be projected into the space in front of you. As you work on a DIY project, cook in the kitchen, or undertake countless other tasks, the information you need, the instructions you need to follow can hover in front of your very eyes.
There are endless possibilities for gaming, simulations, virtual tours, and so much more. Microsoft explains how the technology transforms your world into a canvas:
Microsoft HoloLens intelligently maps the room you're in, blending holograms with the environment around you. Pin holograms to physical locations you choose so that your room becomes the canvas for your holographic projects and games. With Microsoft HoloLens, you can interact with holograms and everyday objects together.
HoloLens looks incredibly exciting, but what we've seen so far is a glimpse into the future. You're invited to sign up at the HoloLens website if you'd like to be kept up to date with the latest news.