Quickly transcribe audio files with pmTrans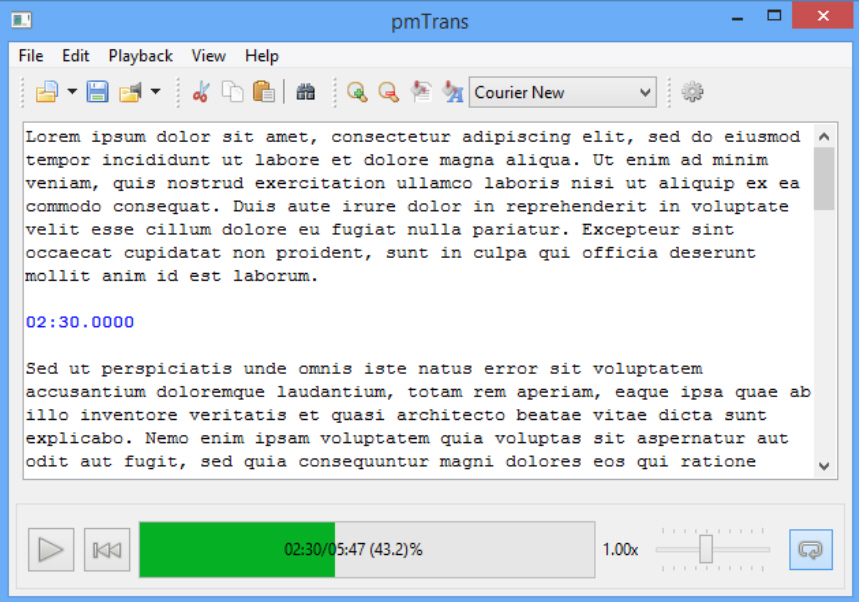 Whether you're typing up an entire interview, or just trying to note a few song lyrics, the endless clicking of Play/ Pause/ Rewind means it's usually a very tedious process.
PmTrans is an easy-to-use Java-based application which can help in various ways. There's no installation, the program is a single JAR file which you can download and run right away.
Basic operations are very simple. Open an MP3 or WAV audio file, click Play, and start typing your notes in the text box provided. You can slow down playback speed or click Pause as required, or jump to any part of the audio file with a click.
If your typing still isn't fast enough to keep up, there are hotkeys to rewind by short or long periods of time (5 and 10 seconds by default, although these can be changed as required).
If using hotkeys is still too much hassle then PmTrans also offers a more automated "audio loop" option. Turn this on and the program plays 5 seconds, rewinds 2, and repeats. This sounds a little odd to bystanders, but it means there's no longer any need for manual rewinds and you can concentrate on typing text.
Pressing the Ctrl+T hotkey inserts a timestamp into your transcription, a marker for the current time ("04:13″, say). This isn't just useful as a visual reference, it's also a link -- click any timestamp and pmTrans jumps to that point in your audio.
One other surprise highlight here is the "Find and Replace" dialog. Not only does it handle the usual Whole Word/ Case Sensitive/ Insensitive searches, but there's also support for regular expressions, it can highlight all your Find strings at once, and there's even an option to set window transparency.
Plainly the program still isn't going to compete with the commercial transcription tools, and easytranscript is a more powerful free option. But for a brand new, open source application pmTrans works well: it's extremely easy to get started and you'll figure out all the key features within a couple of minutes. If you sometimes need to take notes from an audio file, then give the program a try.