Samsung NX500 is a 28MP camera featuring 4K video, Wi-Fi, and a flip-display for selfies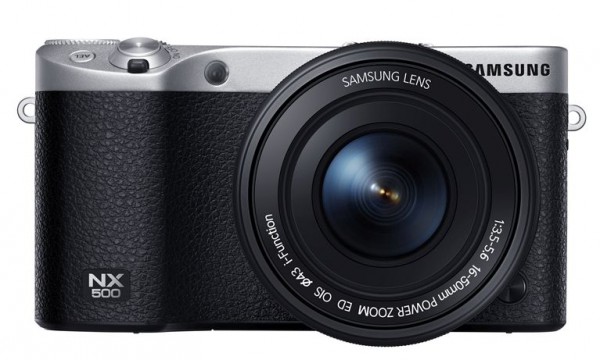 Nowadays, many people use smartphones as their main camera. This is smart, because your phone is always with you. Something important may happen when you least expect it, and a fancy standalone camera at your house will be of no use. Still, I see value in having a standalone unit, as they often take superior pictures and videos thanks to better sensors and larger lenses. Not to mention, many new smartphones do not have expandable memory, while most standalone cameras do.
Today, Samsung announces a downright sexy camera called the NX500. Not only does it feature 28 mega pixels, but it does 4K video too. In other words, this is a great solution for things like vlogging, YouTube and most importantly, family moments.
"The NX500 guarantees superb image quality and vivid photographs, regardless of the shooting scenario or subject matter. With its ultra-high resolution 28MP Back Side Illumination APS-C sensor, NX500 has the ability to take the perfect shot, even in low light situations. It also supports both 4K and UHD video recording, utilizing BSI APS-C sensors, the largest BSI sensor currently available, which provides more flexibility when it comes to capturing movies", says Samsung.
The manufacturer further explains, "the NX500 is equipped with a DRIMeV processor, which is much faster than its predecessor. This feature boasts superior color reproduction, improved noise reduction and enhanced image quality, providing users with results that serious photographers crave. Combined with an innovative 28MP sensor and Hybrid AF system, users can capture even the briefest of moments by simply focusing and shooting immediately, allowing for extreme speed and flexibility. Additionally, 9FPS continuous shooting means NX500 users can easily monitor and capture ongoing action shots. Further enhancing the NX500's action capture capability, the Samsung Auto Shot (SAS) feature uses motion detection to accurately predict when to capture the perfect shot in difficult scenarios, such as when a child fields a baseball".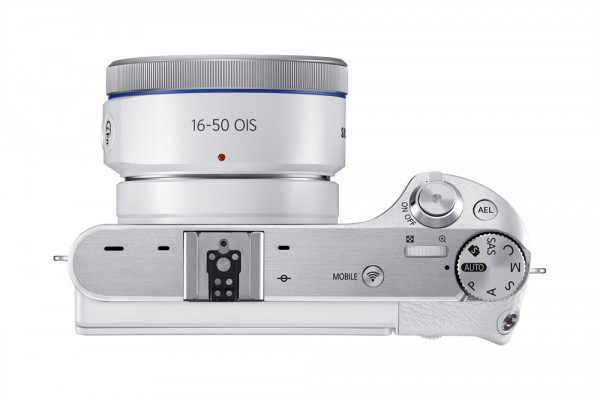 The company lists the following specs.
Image Sensor
28MP BSI APS-C
Display
3inch Super AMOLED Touch

FVGA Tilt / Flip

ISO
Auto, 100~25600 (Ext. 51200)
Shutter Speed
1/6000 sec
Image
JPEG :
(3:2) : 28M (6480x4320), 13.9M (4560x3040), 7.1M (3264x2176), 3.0M (2112x1408)
(16:9) : 23M (6480x3648), 11.9M (4608x2592), 6.2M (3328x1872), 2.4M (2048x1152)
(1:1) : 18.7M (4320x4320), 9.5M (3088x3088), 4.7M (2160x2160), 2.0M (1408x1408)
RAW :
28.0M (6480x4320)
Video
MP4 (Video: HEVC /H.265, Audio: AAC)
4096x2160 (24fps), 3840x2160 (30fps), 1920x1080, 1280x720, 640x480
Frame rate: 60fps, 30fps, 24fps NTSC / 50fps, 25fps, 24fps PAL
Video Output
HDMI (NTSC, PAL)
Value- Added 
Features
Samsung Auto Shot

SMART Mode (Action Freeze, Beauty Face, Fireworks, Landscape, Light Trace, Multi-Exposure, Night, Panorama, Rich Tones, Silhouette, Sunset, Waterfall)

UHD Time-lapse Video

Attachable Flash (Guide Number 8 at ISO100)
Connectivity
Wi-Fi 802.11 b/g/n

Quick Transfer, Email, Auto Backup, Remote Viewfinder Pro, Mobile Link, Photo Beam, Bluetooth GPS Tagging, Auto Time Setting, TV Link

Bluetooth
NFC
Storage
SD,SDHC,SDXC,UHS-I
Battery
1130mAh
Dimension 
(WxHxD)
119.5 x 63.6 x 42.5mm (without projection)
Weight
287g (without battery and memory card)
I have been in the market for a quality camera for vacations, YouTube unboxings and capturing family moments in 4K and this certainly meets my needs.
While the flip-display can be useful for selfies (yes that is important) it can also help you get a shot when you must hold the camera at a strange angle.
Unfortunately, you will have to wait until March for this sexy piece of tech. With that said, it will give you time to save up the $799.99 needed to buy it. Expensive? Arguably. I follow the old adage of "you get what you pay for". If you consider it an investment and average the cost over the years you will own it, it's actually quite reasonable. Why buy a cheap camera that won't last?
The only thing you must decide is whether to buy it in black, brown or white. Me? I like brown. Which color do you prefer? Tell me in the comments.