Build multimedia HTML quizzes with QuizFaber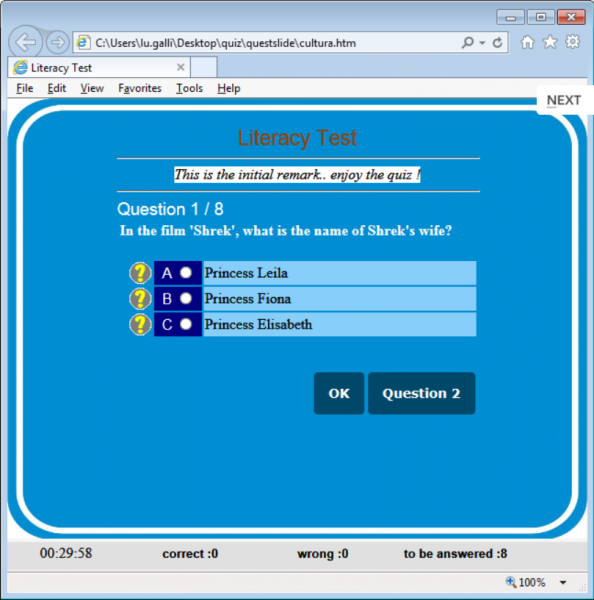 Quizzes have been used to test our knowledge since the dawn of schooling, and they're still just as effective today.
They're not just for teachers, either. A well-designed quiz can help anyone find out more about themselves, learn about something that interests them, maybe compete with friends.
You could design a quiz of your own with a pen and paper, or maybe Windows Notepad. But for more engaging results you might prefer QuizFaber, a free tool for developing multimedia HTML quizzes, no web design or scripting experience required.
The program supports several different question types. These include multiple choice, multiple answers (pick one or more right answer), true / false, gap filling (enter the missing words in a paragraph), and freeform (type text in a box).
Not enough? QuizFaber can also be extended with custom modules, to create new question types. Bundled examples include Jigsaw (shuffle tiles to recreate an original picture), Crossword (fill in a crossword), Numerical (enter a number in a box) and Hotspot (click in a defined area of a picture).
Your quizzes can contain a wide range of multimedia objects, including QuickTime, Java, Flash Video, Image, Real Audio/Media, Flash, Sound and Video.
Quizzes are extremely configurable. Questions may be presented one at a time, or all on one page. Custom sounds can be played for right / wrong answers. You might set timeouts for individual questions, and/ or the quiz as a whole. There are ways to adjust quiz navigation, background colors, images and more.
By default quizzes are anonymous, but you can also assign them to individual students, save the results in various ways (including to cloud storage or your own web server), and analyze the performance of your students over time.
It's not all good news. QuizFaber's interface isn't always intuitive or straightforward. There's no real-time WYSIWYG preview of the quiz (you must manually build and run it). Even though we were supposed to be generating an English language quiz, the prompt for one feature appeared to be in Italian, and the final "Quit" button didn't close our browser window.
For all that, QuizFaber has a vast array of features and functionality, certainly more than we'd expect in a free application. If you need this kind of tool then it's worth a try, just be prepared to spend a while fixing any issues and getting everything working correctly.