Need a bigger cloud? Microsoft has 100GB of free OneDrive storage for you!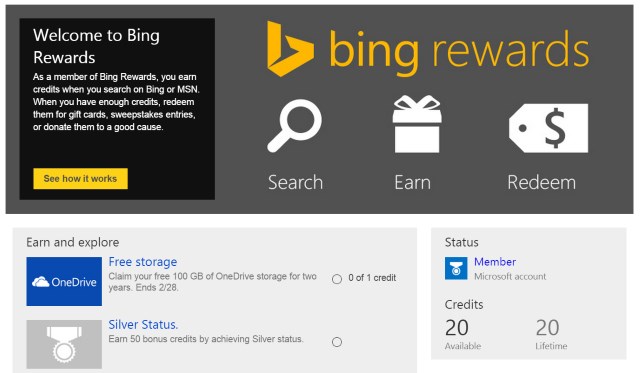 It's difficult, if not impossible, to have too much storage space. There has been a slow, but steady move to the cloud, and there are numerous names vying for attention, from Google Drive and Mega to OneDrive. Numbers talk, and it's the amount of free space that can sway users to one service or another.
Google has been giving away Drive storage with Chromebooks for some time, and now Microsoft is getting in on the action. Agree to receive promotional emails through Bing rewards, and you can bag yourself an extra 100GB of OneDrive storage completely free of charge for the next two years. If you're in the US, that is. Or if you use a proxy...
It's a pretty straightforward offer. Pay a visit to the Bing Rewards page, click the OneDrive offer and then indicate that you're happy to "receive promotional emails from OneDrive". That's all there is to it. Oh... it's worth noting that "you can unsubscribe at any time". It's not clear whether this will result in your free storage being removed, so you might want to set up suitable filters to prevent your inbox from filling up with junk.
Once the two years are up, you'll have to stump up the cash for the extra space or lose it, but until then, just enjoy the extra breathing room.
It seems that the offer is only officially available to those within the US, but there's nothing to stop you from using a proxy service to, say pretend you were in the US even if you're not. S'up to you...