PingView is a versatile network monitor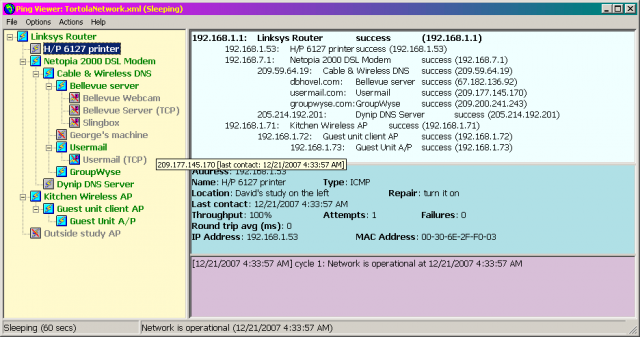 Managing networks is a tedious, time-consuming business, and if your needs are simple then it might be best not to bother. If a network device goes offline, so what? You can just deal with any problems as they crop up.
If several others are using your network, though, you might want to take a more proactive approach, and keep an eye on your hardware. Enter PingView, a free tool for monitoring selected devices -- or domains -- and checking they're still online.
The program is portable, making it easier to use from anywhere on your network. Just unzip the download and go.
PingView opens with the Ping Collection Creation Wizard, which scans your network for available devices. Accept its default settings, it quickly finds any network devices, and clicking "Create" builds the collection.
The main interface then displays a list of any discovered devices. You can select any of these to display a little more data -- MAC address, device name maybe -- although there's nothing like the detail you'd see with a full network scanner (device type, manufacturer, services available etc).
Right-clicking in the collection pane and selecting "Add Target" allows you to add additional devices, IP addresses or domains.
The Options > Collection Properties dialog gives control over details like ping frequency and timeout.
Once you're ready to go, clicking Actions > Start launches the monitoring process.(You can also press F1, slightly bizarrely. PingView's developer pays no attention to keyboard shortcut conventions.)
PingView checks each device every 30 seconds (by default), highlighting anything which is inaccessible, and displaying response times and other information for working devices.
Right-clicking individual devices displays further options to view graphs of ping times, open a browser window at that IP address, and more.
PingView has some quirks and irritations. For example, by default the program is set up to play a sound when a device becomes unavailable. And it comes with four WAV files, representing various device states. But those audio files aren't linked to the events, so for this to work you must manually go to Options > Collection Properties > Sound and set them up yourself.
Still, once you've done that, it's no longer an issue. And by way of compensation, PingView does offer some interesting advanced features. In particular, remote access allows one instance of PingView to share its collection with another, enabling you to see the status of network devices even if they're behind a firewall and maybe inaccessible from your current location.
On balance, we think PingView's portability and bonus extras (like the ability to monitor domains instead of devices) are enough to justify the download. But be prepared to spend an extra five minutes figuring out the interface before it's all working correctly.