Clean up Android devices with the (ad) free Droid Optimizer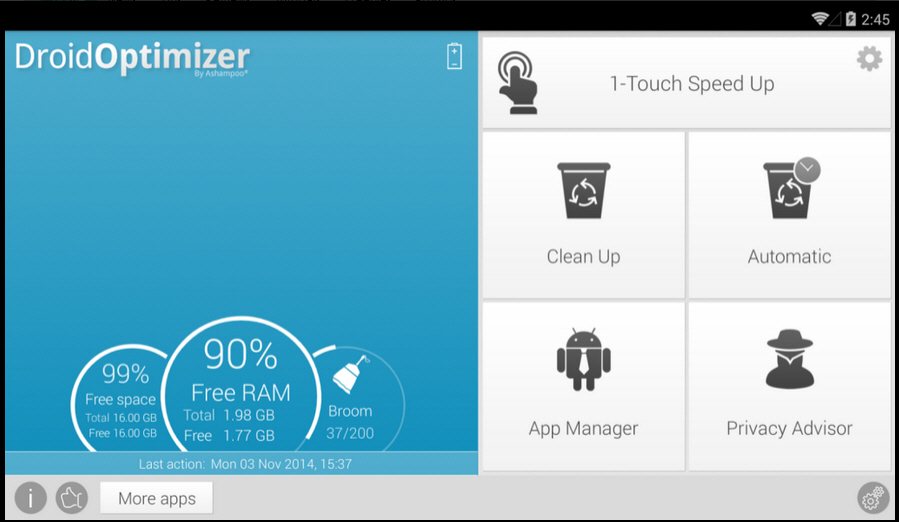 German developer Ashampoo has been producing PC cleanup tools since 1999, but now it's looking a little further. Droid Optimizer is a one-stop app for cleaning, managing and maintaining just about any Android device (2.3+).
There's plenty of competition around, but Droid Optimizer scores immediately as it's free, with no visible ads. The only marketing is a "More apps" button which displays some recommendations, but that's it: leave the button alone and there's nothing else.
The app's home screen displays key details on your system status, including free RAM and storage space. Five tiles then lead you to Droid Optimizer's main features.
A Cleanup module can stop background apps, clean your device cache or browser history with a tap, while a more capable Junk Finder locates surplus and large files.
The App Manager lists your apps, displays details on them and allows them to be uninstalled.
The Privacy Manager highlights potentially "suspicious apps", anything which requires the most critical permissions. You can review these in fine detail, and again, remove the app if necessary.
A "1-Touch Speed Up" feature automatically closes some background apps, then lets you know how much RAM it's freed.
There are various automation options, too. You can have Droid Optimizer automatically stop background apps, clear your cache or browser history, at the frequency of your choosing. A separate Good Night Scheduler helps to extend battery life by optionally turning off Wi-Fi, Bluetooth, background apps, auto sync and more, during the time periods you specify.
There's nothing radically new here, but Droid Optimizer has a good range of features, is easy to use, and from what we've seen -- and its current 4.4 star Google Play rating -- does what it claims. Worth a try.