Technician's Toolbox is a portable troubleshooting toolkit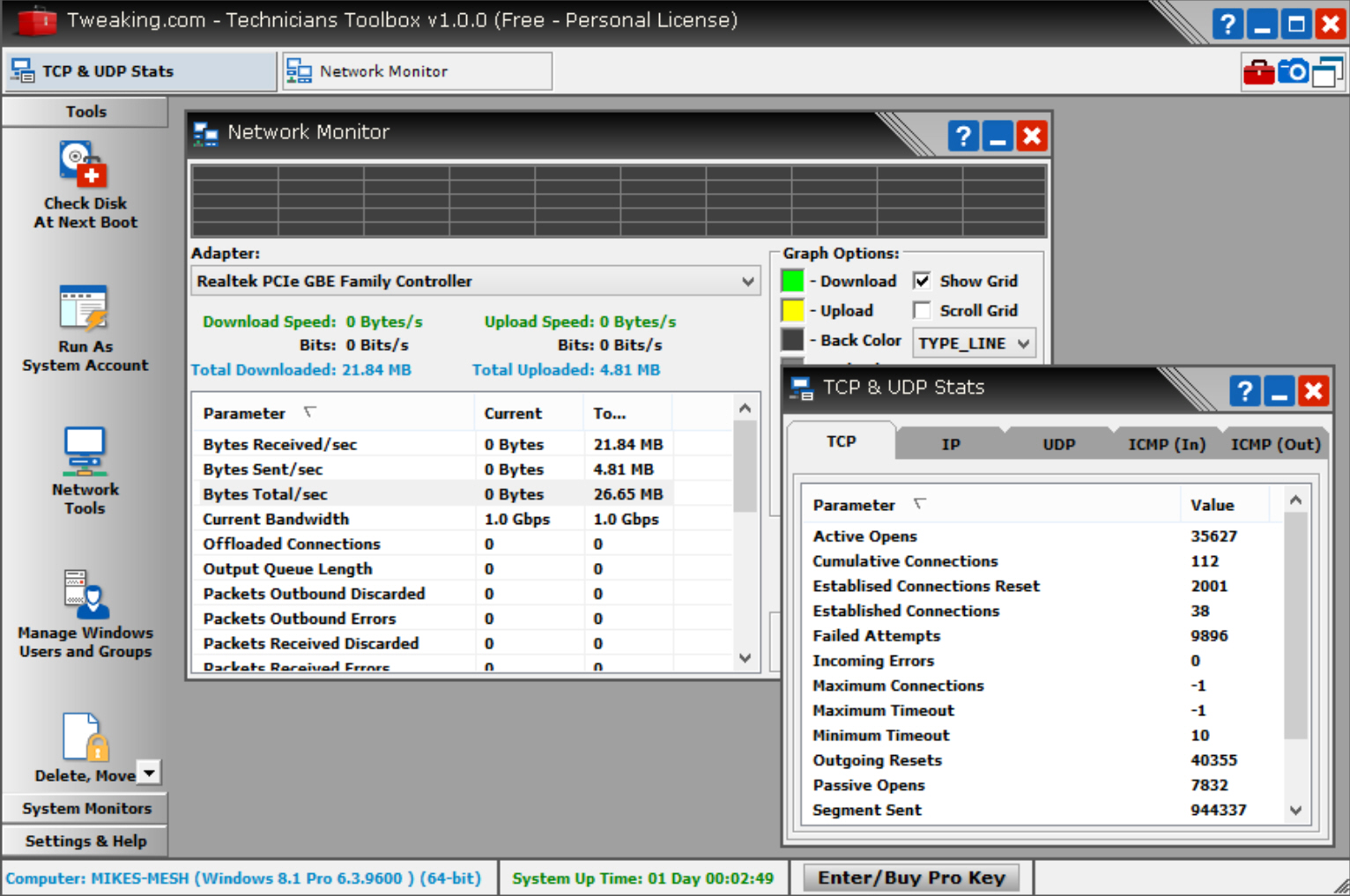 Utilities developer Tweaking.com has released Technician's Toolbox and Technician's Toolbox Portable, a free-for-personal-use suite of 20+ PC maintenance, monitoring and management tools.
Networking features are a highlight, with a graphical netstat, in-depth details on your network adapters, traffic monitoring, DNS server management, an IP subnet calculator, network scanner and more.
A substantial "Manage Windows Users and Groups" module covers everything from viewing individual user accounts, to managing users and groups, even providing a "Bulk Manage" tool to process all your chosen accounts at once.
Other features are much more basic. You get viewers for running processes and Windows services, for instance, but although these have one or two extras (you're able to delete a selected service) they're otherwise barely up to the standards of the standard applets, and no match for the best-of-breed freeware.
We weren't impressed by the "system monitors", either. These aim to help you track CPU, hard drive, RAM and network usage, but they're limited, with cluttered interfaces, and we'd much prefer to use either standard Windows tools or alternative freeware.
There are also plus points. "Run as System Account" launches a program with system account privileges, potentially very useful when removing viruses. A "Quick List" can immediately launch Explorer, Regedit, Task Manager or the Services applet with system rights, and you can add your own tools to the list in a few seconds.
Smaller, but still welcome tools are on hand to schedule chkdsk, move or rename locked files at the next boot, or set up your PC to shut down at (or after) a given time.
Right-clicking in a few modules reveals even more functionality. Whether you're browsing a summary of network activity or a list of running processes, for instance, you're able to send some or all of that information to the clipboard, or save it as a txt, html, csv or asc report.
Technician's Toolbox (go for the Portable build) doesn't get everything right by any means, but for the first release of a free (for personal use) product it's not bad, and there's more than enough here to be useful. Check it out.