New tool simplifies translating apps into different languages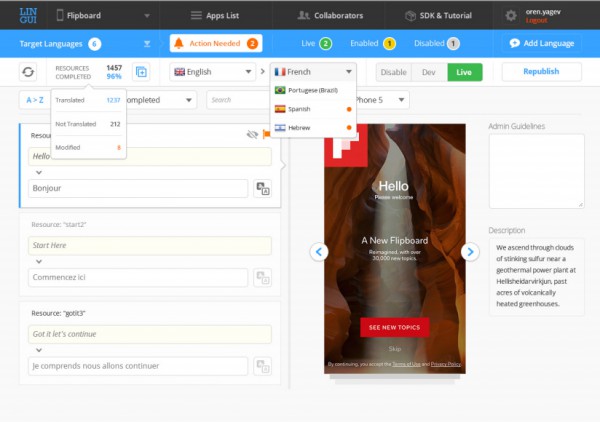 Developers put a lot of time and resources into the technical aspects of their apps. But when it comes to selling them in other markets there's often little left for localization.
Now OHT-Mobile, part of One Hour Translation, has a solution with the launch of Lingui, a low-cost way to localize apps quickly without the need for extra manpower, complicated processes or even the requirement to send updates to the App Store or Google Play.
"Having spent a lot of time and effort developing their application, one of the biggest challenges facing developers is how to make their applications accessible and engaging for users around the world," says Ofer Shoshan, CEO of One Hour Translation. "Lingui by OHT-Mobile allows developers to cut out the time consuming and expensive process of localizing applications for multiple audiences".
Lingui simplifies the development process by inserting a few lines of code into the app that detect text in the UI and allow the option to translate in a number of ways. There's the choice of automatic translation, professional human translation or crowd sourced translation. Once the process is complete, the update goes live instantly and everywhere allowing app users to choose from all active languages.
"Until now any newly translated apps would have to be uploaded to the relevant app stores, delaying the time to get the app to market. What's more, users often had to update the app in order to get support for new languages or updated translation," says Shoshan. "With Lingui, your app translations and supported languages are managed on OHT-Mobile's cloud. Updated translations or additional languages are simple and easy to add. There is no need to republish the app in the market or to update the app on the user's device".
Lingui will be on display at Mobile World Congress in Barcelona from the 2nd-5th March or you can find out more on the One Hour Translation website.