Samsung's 128-gigabyte UFS 2.0 memory promises faster smartphones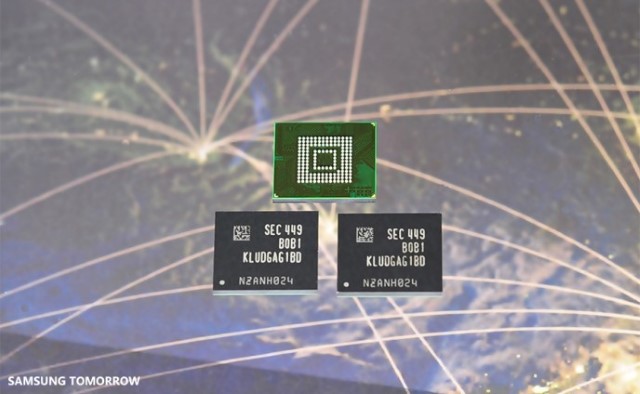 Samsung has announced that it has started mass-production of 128 GB ultra-fast embedded memory. Described as an industry first, the memory is based on the Universal Flash Storage (UFS) 2.0 standard and is 2.7 times faster than the commonly used eMMC 5.0.
With performance of 19,000 IOPS (input/output operations per second), the memory offers sequential read and write speeds comparable to SSDs. Despite this, the memory draws half the level of power of existing mobile memory.
Aimed at the high-end smartphone market, Samsung's UFS 2.0 memory is available in 128GB, 64GB and 32GB versions. Current eMMC will continue to exist for mid-range handsets, but the increased speed and reduced power consumption of UFS will see the development of faster phones at the top end of the market with battery life which is far better than what can currently be achieved.
Jee-ho Baek, Senior Vice President of Memory Marketing for Samsung said:
With our mass production of ultra-fast UFS memory of the industry's highest capacity, we are making a significant contribution to enable a more advanced mobile experience for consumers. In the future, we will increase the proportion of high-capacity memory solutions, in leading the continued growth of the premium memory market.
As well as improvements to speed and battery life, there are also space savings to be made. Samsung explains that the ePoP (embedded package on package) memory can be placed directly on top of a logic chip to help keep physical size to a minimum.