New memory cards from SanDisk are designed for dashboard and security cameras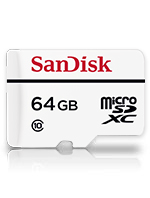 Cameras are everywhere these days, even on the dashboards of cars. In fact many of these, while in place for other reasons, have shown us all sorts of interesting stuff, including a recent meteor on its way to earth over the country of Russia. But where do you store all of this data?
SanDisk has a solution that could solve this problem. A new microSDXC card that comes with 64 GB of storage and promises up to 10,000 hours of HD video recording, though a caveat is offered in the fine print -- "video content recorded at 26 Mbps to one device; results, video support and performance may vary depending on host device, file attributes and other factors". Honestly, if it comes anywhere close to that then it's more than enough for any consumer.
While the 64 GB version was the feature of the announcement, a 32 GB version will also be available for those who require a bit less recording time and a bit of money savings.
"We are excited to enter this emerging market with a product that marks a significant milestone for the company and industry," says Dinesh Bahal, vice president of product marketing, SanDisk, "We recognized that today's auto and home video monitoring systems require more demanding memory solutions, so we leveraged our expertise to deliver a technologically advanced microSD card that truly meets the needs of this growing market".
The cards will be available in the US, as well as select places in Europe and South Korea. The 32 GB version comes in at $84.99 and the 64 GB version will set you back $149.99. An actual release date was not given, but the listing is already on the SanDisk site.