Second-generation Chromebook Pixel available now at all-new Google Store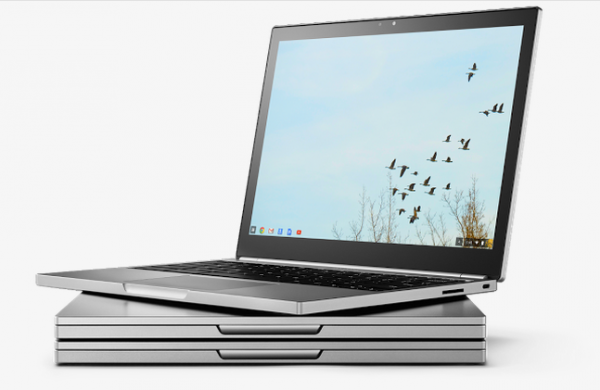 When Google announced the first Chromebook Pixel, many people scratched their heads in confusion. There was good reason for this; Chromebooks were looked at as low-cost web-browsing machines, while the Pixel was very expensive and beautiful. The developer-focused machine served as an example that laptops running Google's browser-focused operating system didn't have to be chintzy.
Unfortunately, Google allowed the Pixel to age and get stale with nary an incremental update. Hell, since Google seemingly ignored it, many people predicted the Pixel's demise. Well, I am happy to say that Google is finally updating the luxurious Chromebook Pixel.
"These days, packing for a trip means remembering to bring all your different chargers -- for your phone, laptop, tablet, watch, etc. We think you should be able to use just one charger for all your electronics. So for the new Pixel, we've joined forces with some of the biggest names in the industry to create a new standard for charging, called USB Type C. The Pixel is one of the first products to launch with this new standard, with more Chromebooks and Android devices following suit soon", says Andrew Bowers, Director of Consumer Hardware, Google.
Sorry Google, it looks like Apple beat you to the USB-C party with its new MacBook by a couple of days. Luckily cables for this standard are on the way.
Bowers further explains, "it's got a powerful Intel Core i5 with 8GB RAM and a 32GB SSD. If that's not enough for you, we're making an LS (yup, that stands for Ludicrous Speed) version that's even faster. And even with the new charger, you probably won't be carrying it around much, since the new Pixel has 12 hours of battery life. When you do need to top up, it's fast -- you'll get up to two hours of battery life with just 15 minutes of charging".
What exactly makes the Ludicrous Speed edition better? A few things, actually. A faster Intel Core i7 processor, double the RAM at 16GB and double the storage with 64GB. As great as that is, I'm not sure that it is worth the upgrade; an i5 and 8GB of RAM is fine for Chrome OS.
You can buy the Chromebook Pixel immediately at Google's all new store, for $999. The LS version will run you $1299.
Yes, you are reading that correctly. Google has launched its own online store -- the unimaginatively named Google Store.
The search giant explains, "at store.google.com, you can shop Nexus phones and tablets, Chromecast and Chromebooks, learn more about newer technology like Android Wear, Nexus Player and Nest, and stock up on accessories like cases, keyboards and chargers. You'll see how the Google apps you already know -- like Search, Maps and YouTube -- work seamlessly with all these products. The Google Store is available on your phone, tablet, or laptop, and right now you'll get free shipping on everything".
Will you buy the new Chromebook Pixel from Google's new store? Tell me in the comments.