System76 unveils all-new Broadwell-powered Lemur -- an affordable Ubuntu Linux laptop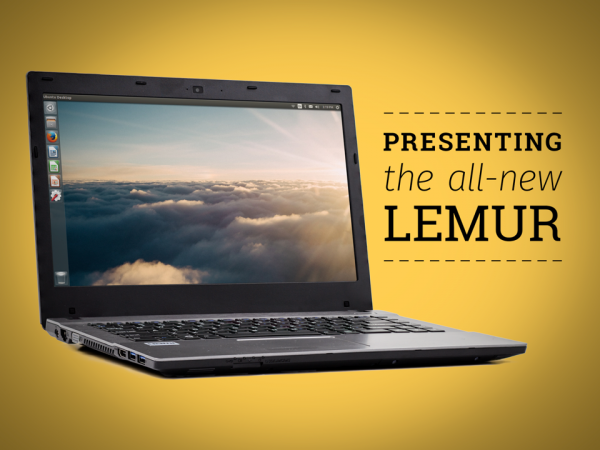 While many computer manufacturers are in a race to the bottom -- both in price and quality -- some makers continue to produce reliable high-quality machines. One of these manufacturers is System76. If you aren't familiar, it manufactures and sells desktops and laptops running the Ubuntu operating system. In other words, Linux fans can buy one of these machines and have it running the Linux distro out of the box -- no need to format the drive to remove Windows.
Today, the company announces the all-new Lemur -- a laptop with a Broadwell processor. The 14.1 inch laptop not only has solid specs, but an affordable price tag too. If you are a Linux fan in the market for a new laptop, you need to take a look.
"The Lemur is a new laptop class for System76. It's designed to achieve long battery life and affordability while maintaining the high quality standards our customers have come to expect", says Carl Richell, CEO and Founder, System76.
Speaking of long battery life, the company claims it can easily last an entire flight across the continental United States -- California to New York. While this impressive, your mileage may vary depending on the type of computing you do.
Processor: 5th Gen Intel Core i3-5010U (2.10GHz - 3MB cache - 2 Cores - 4 Threads)
Display: 14.1 inch 1366×768 HD, Glossy Finish
Graphics: Intel HD 5500
Memory: Up to 16GB Dual Channel DDR3 @ 1600 MHz
Storage: 1× mSATA, 1× 2.5 inch SATA III
Expansion: 2× USB 3.0, 1× USB 2.0, SD Card Reader, DVD-RW Drive
Input: Multitouch Touchpad, Chiclet Keyboard
Networking: Gigabit Ethernet, Intel Wireless-AC, Bluetooth
Video Ports: HDMI 1.4a, VGA
Audio: Stereo Speakers, Mic, Headphone Jack, Mic Jack, 5.1 channel (HDMI)
Camera: 720p HD Webcam
Security: Kensington Lock
Battery: Removable 6 Cell Smart Li-Ion -- 62.16 Wh
AC Adapter: 40W, AC-in 100--240V, 50--60Hz
Dimensions: 13.38 inch × 9.5 inch × 0.89 inch (33.98 × 24.13 × 2.26 cm)
Weight:4.2 lbs. (1.9 kg.)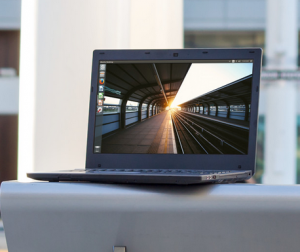 While some of the specs, like the processor, cannot be changed, it is customizable in other ways. You can choose between 4GB, 8GB or 16GB of RAM and select either an SSD or HDD as the operating system drive. You can even add a second SSD or HDD for storage.
The least expensive model is $599 and comes with 4GB of RAM and a 7200RPM 500GB hard drive. This is adequate for the typical home or small-business user and a very good value. Upgrading from this configuration is just a matter of how much you are willing to spend.
With that said, if you want a low-cost speed boost, I would suggest spending an additional $89 to swap the 500GB HDD for a 120GB mSATA SSD. The performance boost should be significant, but yes, the downside is less storage. Keep in mind, the Ubuntu OS takes up very little room; you may be fine, especially if you take advantage of cloud storage like Dropbox. For an additional $69, you can add a secondary 500GB for storage, but watch the price tag, as these things add up.
If you are interested in buying the Lemur laptop, you can do so here. Please tell me which configuration you chose in the comments.