Logitech brings Keys-To-Go Ultra-Portable Keyboard to Android and Windows


Typing on a glass screen is OK for Twitter and short text messages, but if you want to write longer pieces, a physical keyboard is ideal. Not only does it offer a more comfortable experience, but potentially more accurate too.
Unfortunately, many keyboards for tablets and phones are clunky affairs, leading to a poor overall experience. Logitech is known for its great mobile keyboards, so when its svelte Keys-To-Go was released, I was excited, but also dismayed as it was an iOS focused product. While I do use an iPad, I use Android and Windows far more often. Today, the company brings the awesome typing solution to Android and Windows too.
"Last fall we introduced the Logitech Keys-To-Go for iOS, and we've been thrilled with the excitement it has caused. We're now happy to share today that this popular go-anywhere, spill-resistant keyboard is also available for Android and Windows mobile devices. Whether you're using a tablet, phablet or smartphone, the Logitech Keys-To-Go for Android and Windows is the perfect partner for on-the-go typing", says Logitech.
The company further explains, "this keyboard is packed with a rechargeable 3-month battery and wireless pairing that can be used with any Bluetooth device, not just your tablet. This version for Android and Windows also includes a portable stand, which allows for easy typing on your smartphone".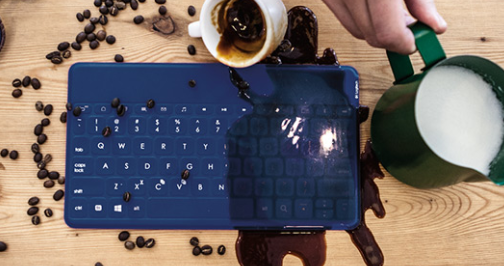 I do a lot of typing in coffee shops, so the spill-proof nature of the Keys-To-Go would be perfect. Remember, even if you aren't careless or clumsy, someone sharing a table with you at Starbucks may be.
I can see myself propping up my Dell Venue 8 Pro in its stand/case and typing with this Logitech offering. It will allow me to travel very light and without worry. Both the tablet and keyboard share the same micro USB charger too, meaning there is one less thing to pack. With 3-month battery life, charging should be very infrequent.
You can pre-order the Keys-To-Go for Android and Windows here for $69.99.