Share files on 50+ hosting services with Image Uploader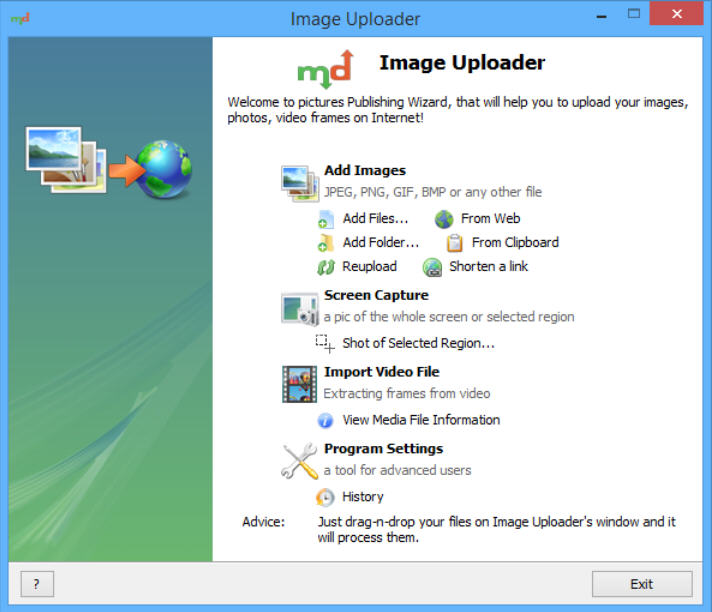 Image Uploader is a free Windows application which uploads your chosen selected files (not just images, despite the name) to any of 50+ image or file hosting sites: Flickr, Imageshack, Imgur, Picasa, Twitpic, Dropbox, Google Drive, SendSpace and generic FTP servers, amongst many others.
Getting started is easy. Once you've set up a default service, you can upload files or folders by dragging and dropping them onto the program window, or right-clicking them in Explorer and selecting Image Uploader > Upload…
An integrated screen capture tool can grab the entire screen, active window, rectangular or freehand area. This can optionally be opened in your default system editor, before being uploaded for immediate sharing.
There's also support for uploading video frames. This isn't exactly sophisticated -- there's no video editor, instead it generates a specified number of evenly spaced frames and you choose whatever looks best -- but it's still a feature worth having.
Once the files are online, Image Uploader provides their links in URL or BBCode form, as well as a range of HTML variants (links, images, clickable thumbnails, table of clickable thumbnails), Markdown and more.
There's even more power in the Settings dialog, where you can set up the program to resize images, add watermarks, apply text and more, or tweak your screengrabs to clear a window's transparent corners, add a shadow, and create a file using your preferred naming scheme.
The Image Uploader interface is a little quirky, more a list of separate functions than a coherent whole. But it works well, supports a good range of hosting services, is extremely configurable, and -- unusual for this type of tool -- has absolutely no adware at all. Check it out.