HGST announces Ultrastar Archive Ha10 -- world's first 10TB hard drive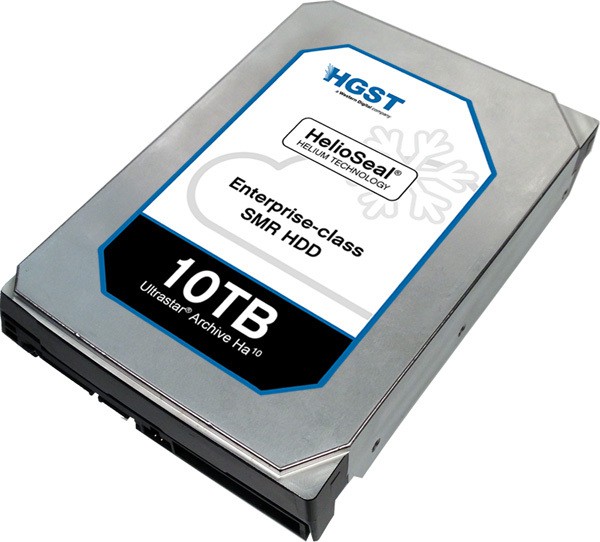 As more consumers and businesses move towards the cloud, there is less of a need for physical hard drives, right? Sort of. Sure, fewer consumers will have a need to buy large storage drives, but how do you think cloud storage companies such as DropBox store your files? Hard drives, of course!
Today, HGST announces the world's first 10TB hard drive. With a focus on the enterprise, this drive is sure to be a big hit in that segment.
"This industry-defining product is the result of combining two complementary technologies -- HGST's second generation, field-proven HelioSeal platform and shingled magnetic recording (SMR) -- to deliver unmatched storage density and power efficiency, without compromising reliability and performance predictability. With an industry-leading 10TB capacity, the Ultrastar Archive Ha10 gives customers a time-to-market capacity advantage for archival environments and applications where data is sequentially written and randomly read, such as social media, cloud storage, online backup, life sciences as well as media and entertainment", says HGST.
The company also shares, "initial rollout of the 10TB HDD is focused on cloud and OEM storage customers who have the in-house capability to develop the software required. To benefit from the value proposition of Ultrastar Archive Ha10, host applications need to be first sequentialized, which requires adjustments in the software stack to take advantage of the areal density gain, and consequently, the sequential write behavior of host-managed SMR. This not only ensures the predictable performance that enterprise and cloud customers have come to expect, but also provides maximum control and arbitration at the host system level, which customers prefer".
HGST scores major points for working with the open source community too. In an effort to get the SMR command sets working in Linux, the SDK has been posted on GitHub here.
While price and availability are not yet known, your company can request a quote here.
Check out the below specs and tell me what you think in the comments.
Model # / Part #

HMH7210A0ALE600 / 0F23364
HMH7210A0ALE601 / 0F23378
HMH7210A0ALE604 / 0F23379
HMH7210A0ALN600 / 0F21391
HMH7210A0ALN601 / 0F21395
HMH7210A0ALN604 / 0F21396

HMH7210A0AL4600 / 0F23363
HMH7210A0AL4601 / 0F23369
HMH7210A0AL4604 / 0F23370

Interface
SATA 6Gb/s
SAS 6Gb/s
Capacity (GB)
10,000 (10TB)
10,000 (10TB)
Sector size (variable, Bytes/sector)
512e: 512 ; 4Kn: 4096
4Kn: 4096, 4112, 4160, 4224
Max Areal Density (Gbits/sq. in.)
830
830
Form Factor
3.5-inch HDD
3.5-inch HDD

Performance

Data Buffer (MB)
256
256
Rotational Speed (RPM)
7200
7200
Latency Average (ms)
4.16
4.16
Interface transfer rate (MB/sec, max)
600
600
Sustained transfer rate (MB/sec, typ.)
157 (read), 68 (write)
157 (read), 68 (write)
Seek Time (read, ms, typical)
8.5
8.5

Reliability

Error Rate (non-recoverable, bits read)
1 in 10^15
1 in 10^15
MTBF (M hours)
2.0
2.0
Load/Unload Cycles
600,000
600,000
Availability (hrs/day x days/wk)
24x7
24x7
Reliability - Warranty (yrs)
5
5

Acoustics

Idle (Bels)
2.0
2.0

Power

Requirement
+5 VDC, +12 VDC
+5 VDC, +12 VDC
Operating (W, typical)
7.6
8.4
Idle (W)
5.1
5.7
Power consump. efficiency index (W/GB)
0.00051
0.00057

Physical size

Z-Height (mm)
26.1
26.1
Dimensions (width x depth, mm)
101.6 (+/-0.25) x 147
101.6 (+/-0.25) x 147
Weight (g, max)
650
650

Environmental (operating)

Ambient temperature
10° to 60°C
10° to 60°C
Shock (half-sine wave)
70
70
Vibration (5 to 500 Hz)
0.67 (XYZ)
0.67 (XYZ)

Environmental (non-operating)

Ambient temperature
-40° to 70°C
-40° to 70°C
Shock (half-sine wave)
300 (1ms), 150 (11ms)
300 (1ms), 150 (11ms)
Vibration (2 to 200 Hz)
1.04 (XYZ)
1.04 (XYZ)