Nitro Pro 10 arrives, gains batch automation tool, PDF Portfolio creation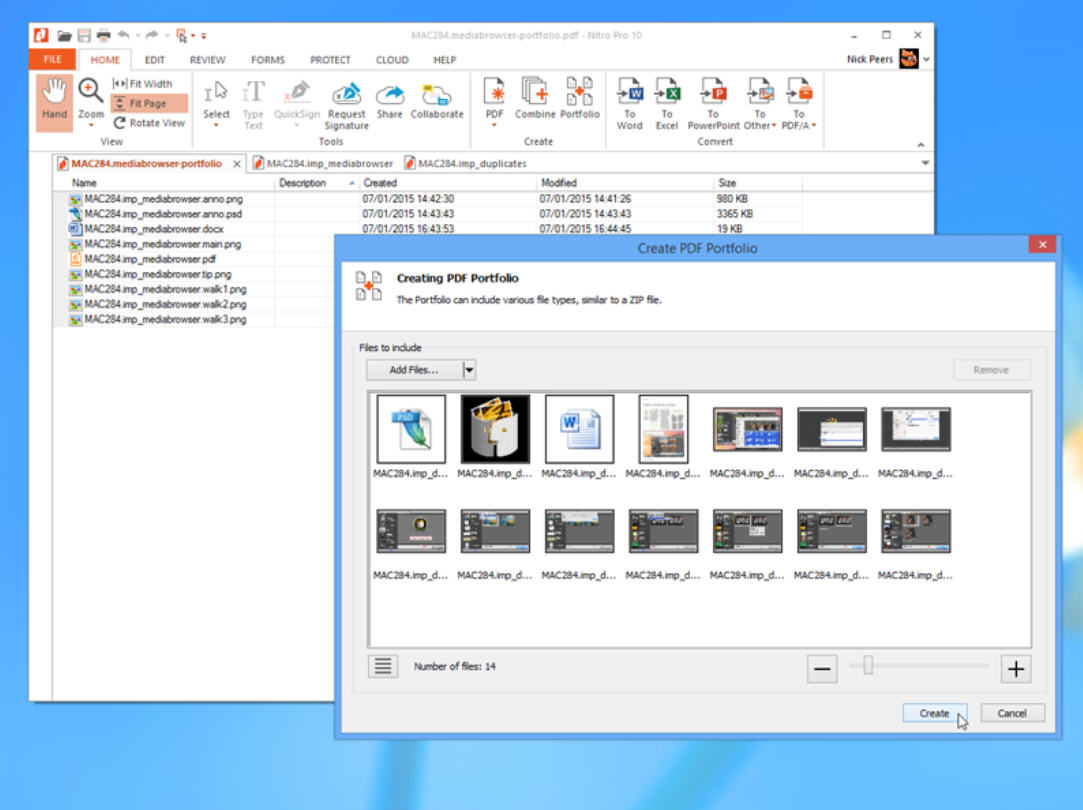 More than 18 months since its last major release, Nitro has launched a major new version of its award-winning 'Acrobat alternative' tool for creating, editing and converting PDFs, Nitro Pro 10.0.
Version 10 introduces a new Batch Processing tool for repetitive tasks, plus adds drag-and-drop support for creating PDFs and copying pages between documents. It also adds PDF Portfolio creation, PDF/A conversion, and wider support for various cloud-based storage services.
Nitro Pro 10 sports practically the same ribbon-based user interface as the previous version, based on Office 2013. The new features can be found scattered across the various aspects of the program.
The Batch Processing tool is accessible via the File tab, and currently supports 12 actions, six of which convert the selected documents to various Office or PDF/A formats. Other supported actions including password security, print, OCR (searchable or searchable and editable), delete all comments and execute JavaScript. Users can build up a sequence of one or more of these, then click Run to select which file or files to perform the actions on.
The File tab also provides shortcuts to the supported cloud service tools, assuming they're installed and present. Dropbox, OneDrive and Google Drive are all supported.
The Home tab reveals the new PDF Portfolio creation tool -- this allows users to combine multiple files of any format into a single PDF wrapper, similar to a zip file. Once done, opening the portfolio in Nitro allows users to browse, view and extract the files for editing as a separate copy outside of the wrapper (files within the portfolio are left unchanged).
Also accessible from the Home tab is the new PDF/A conversion button, which allows users to validate PDFs, update fonts and images and then convert to PDF/A versions 1 and 2 for the purposes of long-term storage.
There are also enhancements to the program's integration with Nitro Cloud, the company's online PDF sharing and collaboration service -- users can now request and receive signatures, which ties in with the program's QuickSign tool adding new custom options for drawing or creating signatures, including supporting both front and back cameras on compliant webcams.
Nitro Cloud also widens its selection of online collaboration tools, with online markup and commenting all supported.
Nitro Pro 10 also allows users to copy pages between open PDF files by dragging and dropping pages from the Pages sidebar on to the target PDF's tab or window.
An Auto De-skew function ensures scanned images are correctly aligned, while the OCR tool comes with the promise of improved accuracy when searching and converting text as well as better recognition of images and tables.
The bookmarks tool also gains new Printing and Extracting Pages options from bookmarked sections, while the Object tool gains a Smart Guides feature to help align shapes properly. Users can now make the search bar float on top of other windows via the [Ctrl] + [F] shortcut.
The program is rounded off with the promise of improved launch times and performance speed – up to 40 percent over the previous version. It also claims to produce smaller PDF files than previously.
Nitro Pro 10.0 is available now as a free, fully functional 14-day trial download for PCs running Windows . The full version can be purchased for $159.99 plus taxes, an increase of $20 on the previous release, with significant discounts available for existing users of Nitro 7 or later.
Users can also road-test Nitro Cloud for free with a Basic account. Single users can upgrade to a Professional account for $14/mo or $120/yr for unlimited signatures and a larger document cap (250 pages or 10MB). Team and Enterprise pricing is also available.