CCleaner 5.07 arrives -- allows users to manage Firefox Web Apps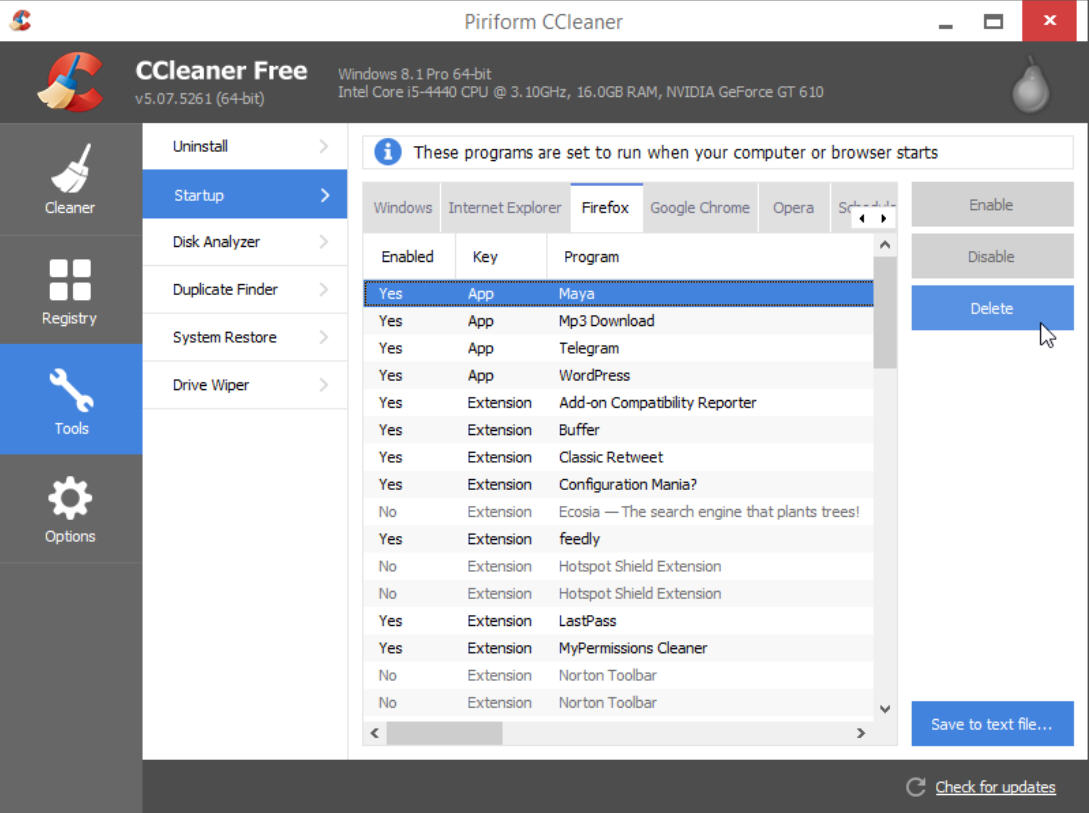 Piriform has unveiled the latest monthly update to its Windows cleaning tool with the release of CCleaner 5.07 FINAL. The new release is also available as a portable build.
The headline new feature is the ability for users to manage their Web Apps in the Firefox web browser. This feature is accompanied by a number of new improvements, including better support for Windows 10 ahead of its official release.
Web Apps can be managed from the same location as other Firefox start-up items -- select Tools > Startup > Firefox where apps can be identified by their Key. Unlike extensions and plugins, however, users can only remove apps by clicking Delete from here -- the  disable and enable functions are off limits.
Version 5.07 also adds support for cleaning up after Adobe Reader DC, the latest build of Adobe's industry standard PDF viewing application. Google Chrome users will be pleased to see that Internet Cache and Session cleaning have been improved.
The app also improves its support for Windows 10 users with better cleaning of both Internet Explorer 12 and Spartan web browsers. Another Windows 10 improvement seems better support for both Recycle Bin and Delayed cleaning.
CCleaner 5.07 also better handles its Skip User Account Control functionality for domain accounts, and rounds off its latest update with the usual translation tweaks, minor GUI improvements and bug fixes.
CCleaner 5.07 and CCleaner 5.07 Portable are available now as freeware downloads for PCs running Windows XP or later. A Professional version offering additional features including real-time monitoring and complete system cleaning is also available, and the best place to get it is the Downloadcrew Software Store, where it costs just $17.46, a 30 per cent discount off the MSRP.