Context Menu Manager for Windows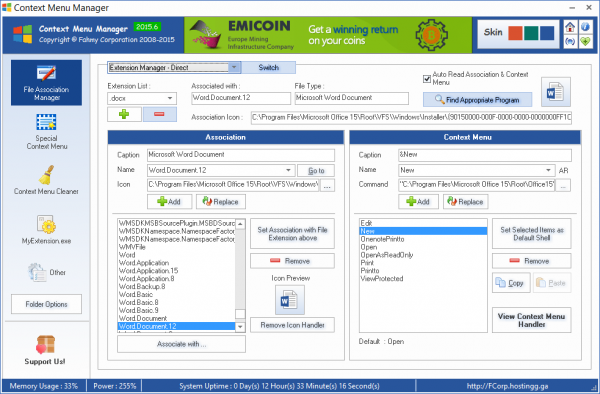 Double or right-click a file in Explorer and it's not always obvious what's going to happen. You might find context menu entries for all kinds of long-forgotten applications, and Windows provides no obvious way to clean up.
Context Menu Manager is a free (well, ad-sponsored) portable program to help you browse your current file associations, view their context menus, clean up broken entries, and maybe add a few new right-click options to get your system working better.
At first glance this looks like a dubious download, thanks to a developer using free hosting sites only and ad-packed download pages. But Context Menu Manager has been around for years, and there's no payload here, no installation required at all (we checked at VirusTotal anyway and it scored 0/55).
The interface is cluttered, with an animated ad in the middle of the toolbar, assorted icons and buttons dotted around, and a status bar with some strange system information (our desktop had a "Power" rating of 255 percent, apparently).
The "File Association Manager" provides plenty of control over your associations. We chose ."docx" in the Extension List and saw the file type, name, caption, icon, and each context menu entry with its caption, name and command. Just about everything can be edited, replaced, or removed entirely, and there are some useful general options as well (clicking "Find Appropriate Program" opens a web page showing programs which can handle that file type).
If you're more interested in finding and fixing problems then a Context Menu Cleaner will scan your chosen menus to uncover and remove broken menu options.
Context Menu Manager also supports various ways to customise your right-click menus with useful options. You might extend the My Computer context menu with items to launch various system tools, restart Explorer, maybe restart your entire PC after a defined time. You can enable the Copy To or Move To functions, add entries to register/ unregister DLLs, launch programs with higher priorities, perhaps create a list based on the contents of a folder.
This isn't always easy to use. The File Association Manager needs a good understanding of the low-level file association fundamentals, for instance. The interface is unclear in several places, and there is no documentation to walk you through the tricky bits.
The system tweaking parts are straightforward, though – check some boxes, click "Apply" -- and overall Context Menu Manager has plenty to explore. Just be careful: create a system restore point before you start, so that it's easy to revert any changes later.